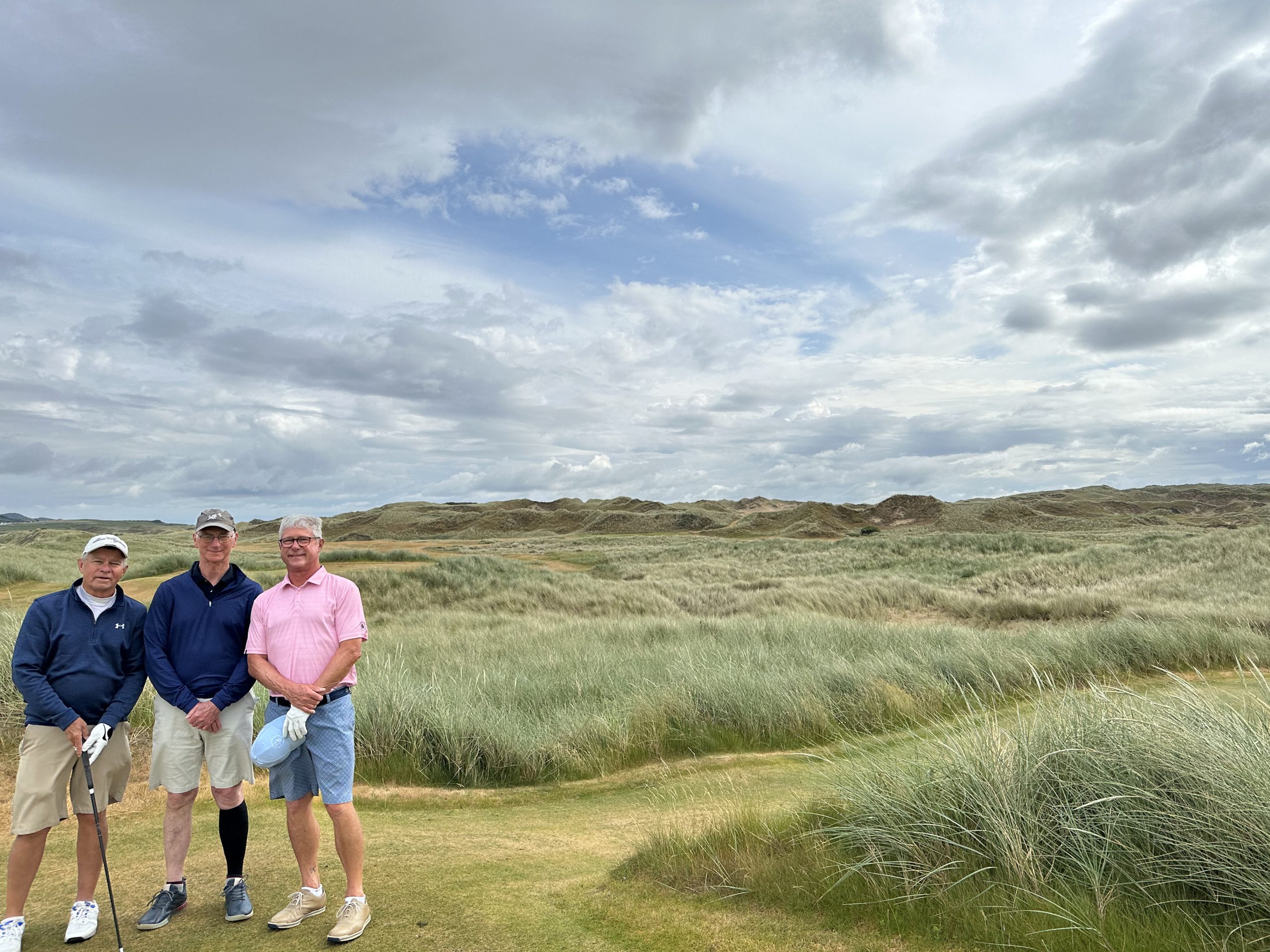 Last week's trip to Northwest Ireland with PerryGolf checks off the island's only region I had yet to visit. We played 8 times in 7 days then took a day to see Dublin. One of the group had been to Ireland, two had been to Scotland. Ages ranged from late 50s to early 70s. None of us were accustomed to so much golf but nobody came close to taking a pass. Excellent weather didn't hurt. We had 65-70 degree days with a one to two club breeze plus sunny skies aside from nine holes of rain which didn't make a difference.
1 DAY 1 – Enniscrone
Our first, and quirkiest, was Enniscrone. This is an old school links with more blind shots than we saw the rest of the trip. Founded in 1918, it was Eddie Hackett's major redesign in 1970 then Donald Steels touch up that we play today. There are massive dunes and some serious tall grass way too close to the fairway so choose your tees wisely. Golf Digest ranks Enniscrone as the 10th best course in Ireland.   The clubhouse serves the best fish chowder you'll ever taste.
I stumbled out of the gate.  Lost two Pro V1s with pretty green shamrocks on my first two swings. (Only lost 4 more the rest of the trip.) Made my first and last birdie of the day at Devlin, Hole 3. Shot 82 and won money.
2 DAY 2 – Carne
Next was Carne which was an hour out of the way but we'd come this far so why not plus it was enough time for Erik's first gin rummy lesson in the back of our VIP Coach.
The course was baked, they'd had no rain for 30 days. Links fairways are always fast but these were lightning. I had no trouble getting into trouble. This is also a classic links layout built with very little earth moved. It stands alone among the courses I've played for its massive dunes meaning that plenty of shots are played from elevation or to elevation. Golf Digest ranks Carne as the 8th best course in Ireland.
I was clueless this perfect day until 7. On the 5-par 9th I hit a career 3 wood 264 yards to the elevated green 20 feet past the flag and made par.  That three putt was pitiful. My caddie said it was the best approach he'd ever seen. I told him under no circumstances was he to tell the story and I meant it!  Shot 77.
3 DAY 3 – County Sligo
Day 3 was exceptional at County Sligo at Rosses Point. The course originally opened in 1894 but it was H.S. Colt's remodel in 1927 that put it on the map. Golf Digest ranks it the 6th best course in the country.  Larger dunes produce elevation changes throughout the round but this is an imminently fair test played on a wonderfully maintained course. We were greeted warmly by GM David O'Donovan, his staff and all the caddies before being shuttled to their fully appointed practice facility. This was a treat since we didn't always get a usual warm up and it paid off. Made 3 straight birdies on the back to shoot 74.
4 DAY 4 – Narin & Portnoo
Round 4 took us to the much anticipated Narin & Portnoo. New ownership hired Gil Hanse and Jim Wager in 2018 for an extensive makeover which opened in 2020. If high drama was the goal, they may have been underpaid because N&P will tempt you over and again to take an aggressive line. That sword cuts both ways and on this day with a 1.5 — 2 club wind I fell on it. It was my worst card of the trip but several of the others including my 14-handicap little brother made it look easy. One guaranteed reward are the views. Every hole beginning with 5 tee overlooks the Atlantic from towering high ground. Our day with clear skies made for striking vistas. Another is the food. The kitchen is run by two accomplished chefs whose skill and creativity were not what we expected on this remote peninsula in Co. Donegal. N&P has a grand vision to create a spectacular destination experience. They have purchased a small hotel overlooking the golf course which is being renovated for high-end lodging. There are plans for additional lodging all served by a chef with Michelin star experience.
NOTE: Narin & Portnoo is a case in point for planning a trip that schedules a replay round where it's available.  Playing any golf course the first time can be tricky, but the second time not so much. I'd save 10 strokes if I had a second chance. It's possible to pick up a replay round on the fly in a less crowded region like this but scheduling it in advance is the safe play.
5 DAY 5 – Sandy Hills Links at Rosapenna
We played Rosapenna's Sandy Hills Links on Day 5 after a 1.5 hour drive through beautiful pastureland countryside filled with sheep. This one is considered a modern links designed by Pat Ruddy and opened in 2003. It plays through dramatic dunes land like everywhere in the region and is ranked Ireland's 12th best course by Golf Digest.
A modern links means the fairways are flatter (but hardly flat), sometimes wider, so there's more landing room. Ruddy's genius is that there doesn't look like there's more room so trust your caddie. The wind was up this day which persuaded us to play the white tees after we butchered 4. Picking the right tees is vital. You might arrive thinking 6,350 doesn't sound like fun but neither is hitting driver to a downhill par 3 surrounded by high grass!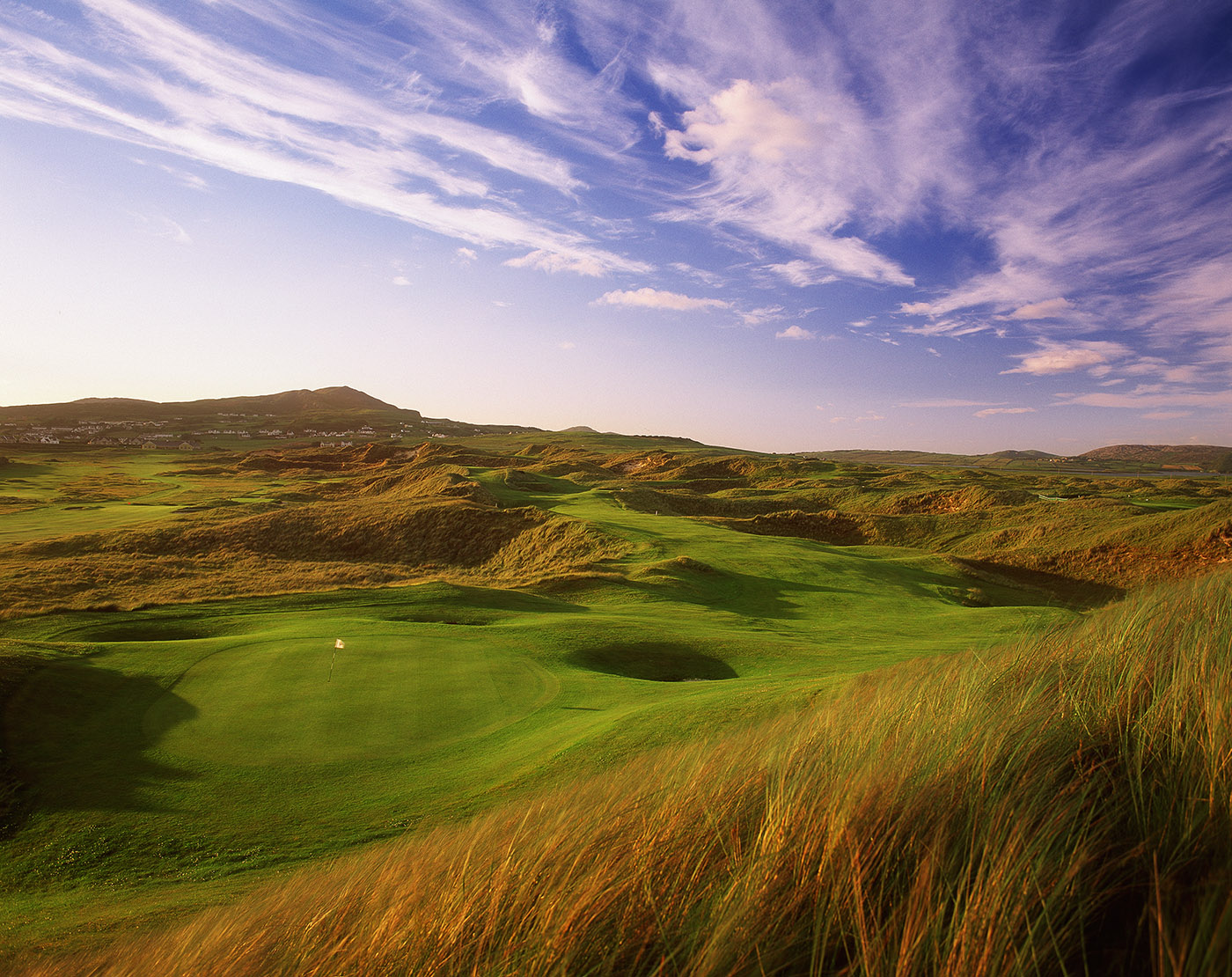 6 DAY 6 – St Patrick's Links and Old Tom Morris Links at Rosapenna
Day 6 was 36 holes beginning with Rosapenna's new St Patrick's Links at 9:00 am followed by Old Tom Morris at 2:30. The sun was bright and the wind was down. St Patrick's is Tom Doak's first Irish design which opened in 2021 as Golf Magazine's 55th best club in the world. It has been fashioned out of sensational links land where two golf courses previously existed. This is a modern links characterized by generous fairways and multiple tees. The greens were among the best we played. Comparisons to Doak's Barnbougle Dunes in Tasmania are spot on. I managed a 77 and didn't win a nickel.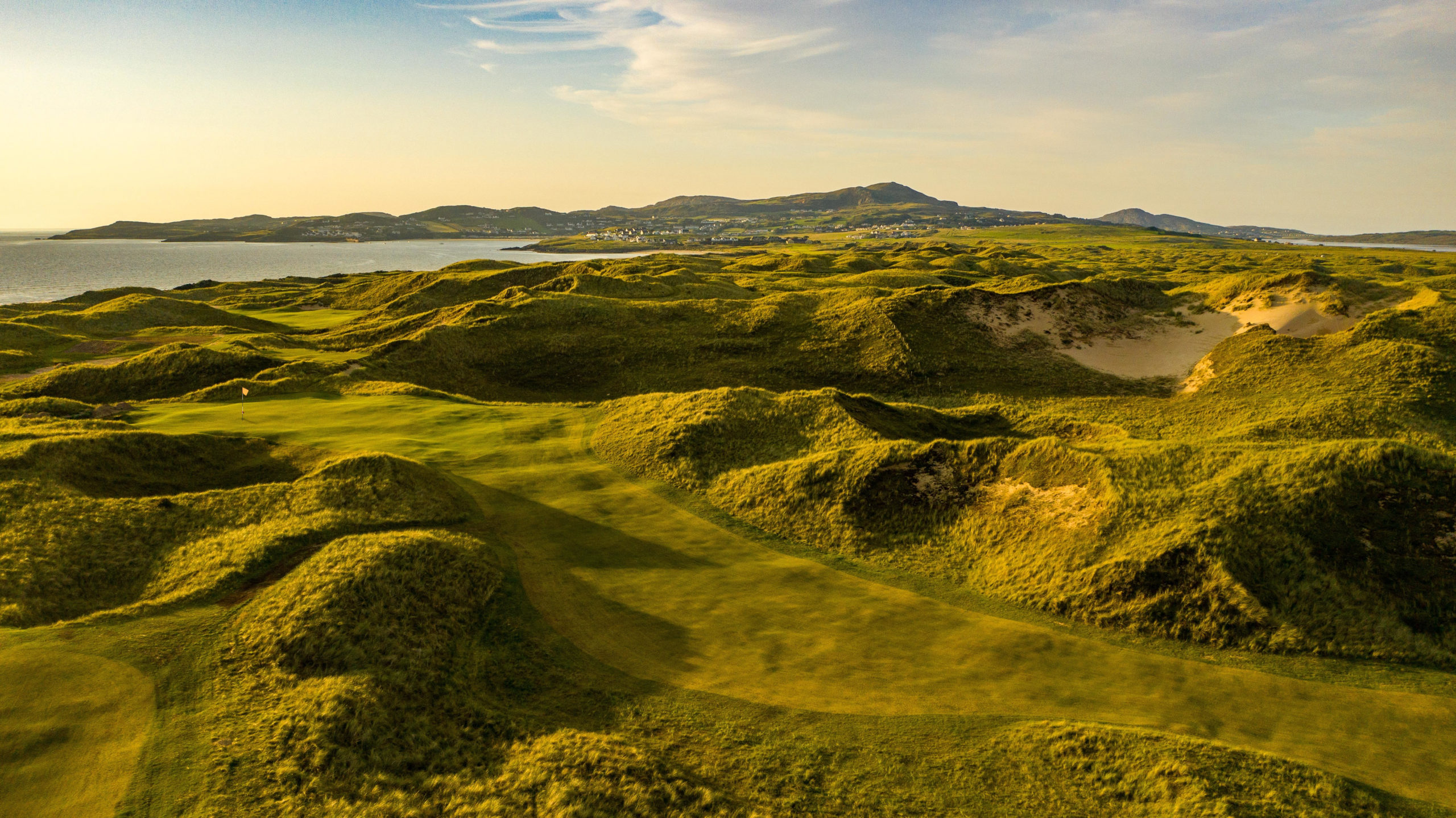 Old Tom Morris Links is a delightful throwback that has evolved over time like many of the links classics but in two distinct phases. Old Tom Morris (1893), James Braid & Harry Vardon (1906) and H.S. Colt (1912) gave birth to the layout which Pat Ruddy modernized in 2009. This was the easiest course we played but the best of the day was 79.
NOTE: My caddie for both rounds was Luke Kelly, a freshman on scholarship at Oakland University in Michigan. I had everybody talked into a new wrinkle where each of us would have their caddie play one hole during the round until they found out Luke was a +4! I really enjoyed his company.
7 DAY 7 – Glashedy Links at Ballyliffin
Our final round was at Ballyliffin, Ireland's northernmost club found almost as far north as you can go. Both courses here are championship caliber. We played Glashedy Links which is a modern links ranked 13th best by Golf Digest. This gem designed by Pat Ruddy opened in 1995. A substantial amount of earthmoving has produced smooth fairways routed through massive natural sand dunes. I tanked the front nine but had 38 on the back. Nobody calls me Front Nine Barnes.
8 DAY 8 – Dublin
Our final day was in Dublin where we started at The Temple Bar for lunch. It's crazy how many people walk around this high energy city at all times and on every street.  We were beyond lucky to get a table in the back and had excellent oysters.  That afternoon we took a 90-minute tour on a Hop On. Hop Off. open air bus. Found a cool scarf for my wife that earned me a pass on my next trip!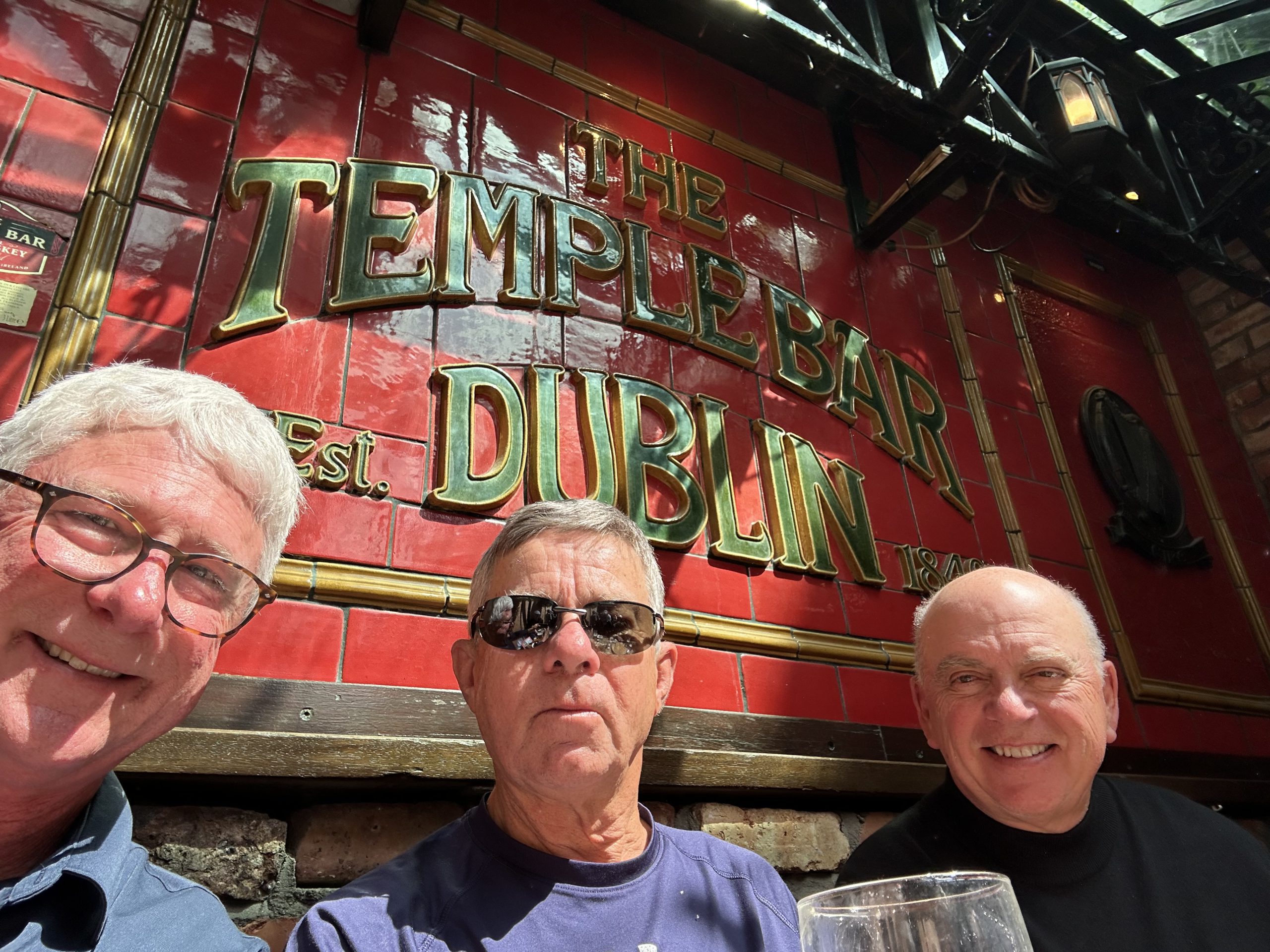 SUMMARY
I have now played nearly all of the leading courses in the British Isles except Muirfield. This trip was the most remote meaning several upsides. Everything is less crowded; the golf courses, the restaurants, the hotels, the stores and highways. It makes for a wonderfully relaxing vacation.  I understand easily how much fun it is to play the marquee clubs, and everybody needs to, but if the measure is quality golf Northwest Ireland stacks up strong.