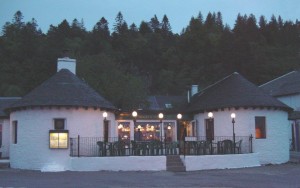 I just had the most splendid weekend at The Pier House in Port Appin, based on the West Coast of Scotland.  We often take a weekend out at this time of year to enjoy the spring weather. 
The Pierhouse is a 12 bedroom property with owners who are passionate about service and quality.  We sat and enjoyed a glass of wine while watching the wee ferry coming and going to the Island of Lismore on Loch Linnhe (one of a few sea Lochs in Scotland).  The scenery is utterly amazing; the West Coast truly has the most spectacular and breathtaking views.  More so, the Hotel has a renowned Scottish Seafood Restaurant; locally sourced seafood – its only when you dine at such a place as the Pier House do you realise what a difference in taste there is when fish are caught and cooked in the same day!
A little bit out the way for those playing golf in Ayrshire – but so very much worth the 2 hour drive from Glasgow to spend a couple of days relaxing, enjoying wonderful food, and seeing the most dramatic of Scottish scenery.  Port Appin is a 20 minute drive from the town of Oban – the gateway to the Isles – with a number of ferries going to Mull and the Outer Hebrides.
Add a few more days to your trip and try the Inner or Outer Hebrides, you will dine out on that experience for many years to come!
By Anne Filshie.  Anne is the Group Director of Operations at PerryGolf.