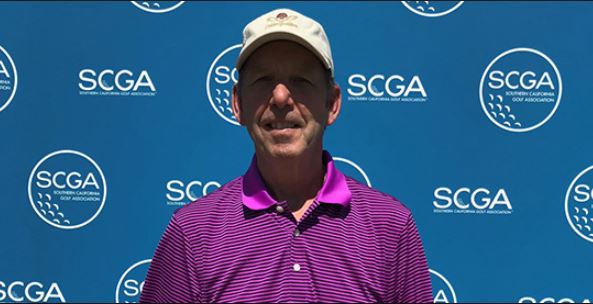 Turning 65 earlier this year opened a new chapter for Howie Knodt in competitive golf as he resumed playing and quickly returned to a familiar place – the trophy presentation ceremony.
Knodt, a PerryGolf Customer Relations Representative, won the Southern California Golf Association Super Senior Championship last month, firing 68-72-140 at Ojai Valley Inn & Spa for a three-shot victory.
Despite a distinguished amateur record, the San Diego resident played a limited tournament schedule in recent years. Becoming eligible for the Super Senior division, however, motivated him to practice. He delivered, withstanding the final round pressure of leading the tournament and holding off two-time defending champion Kemp Richardson.
"It was a chance to see a lot of guys I haven't seen for a long time," Knodt said. "I'm kind of surprised because I haven't been playing any tournaments. Guess it shows I still have a little gas in the tank."
Then again, no one in Southern California should be surprised.
Knodt dominated the Senior Division a decade ago, earning Player of the Year honors in 2009 and 2010 as he won the SCGA Senior Amateur and twice claimed the SCGA Senior Match Play title. He's also a four-time San Diego Senior Am champion and 10-time club champion at San Diego Country Club, which was founded in 1897, has been at its current Chula Vista location since 1921 and has the reputation as the best conditioned course in the region.
In recent years, Knodt has focused on serving as a liaison between PerryGolf and the First Tee, organizing fundraisers for the 150 chapters nationwide. PerryGolf is a Silver Corporate Sponsor of the First Tee, which reaches more than 5 million kids annually, using golf to teach core values and develop healthy, productive citizens.
Knodt also hosts webinars for PerryGolf and escorts guests on a Tour on occasion, impressing several guests with his shotmaking and golf skill on a recent Escorted Tour to Australia and New Zealand.
https://www.perrygolf.com/escorted-tour/new-zealand-escorted-golf-package-nov5.php
Knodt brings a wealth of travel industry knowledge and experience to PerryGolf. Prior to coming on board six years ago, he spent three decades as the managing partner of Carefree Travel, overseeing a half-dozen retail stores across the San Diego area. He also owned and operated Special Event Cruises, providing continuing education programs at sea for doctors and dentists.
https://www.perrygolf.com/golfcruising/new-zealand-sydney-golf-cruise-2019.php
A strong player since college, Knodt received a unexpected stroke of good fortune while playing in a tournament in his mid-50s. He won six free golf lessons with San Diego instructor Bob Madsen and the partnership drove him toward improving his golf fitness and forming a plan that ultimately produced his early senior success.
"He turned out to be an amazing instructor and coach," Knodt said. "He sat down with me for 2-3 hours and asked me what I wanted to try and accomplish. He laid out this plan to try and accomplish these goals. He had an unorthodox approach. The first two or lessons I never hit balls and he never put my swing on video."
Knodt advanced to match play in the 2009 U.S. Senior Amateur at Shady Oaks, the legendary home of Ben Hogan in Fort Worth, Tex., finished top 20 in the British Senior Amateur at Walton Heath and dominated the competition around San Diego County and Southern California.
https://www.perrygolf.com/destinations/england-wales-golf-vacations.php
After selling his travel agency, Knodt's relationship with PerryGolf began via email correspondence and subsequent two-hour phone conversation with president and co-founder Gordon Dalgleish
"I love Gordon and the whole group over there," Knodt said. "They're such a joy to work with and I love their business philosophy."
Winning the SCGA Super Senior earned Knodt exemptions into several of the association major championships next year. He'll play in four or five of those and continue his work with the First Tee, volunteering locally in San Diego and also helping coordinate the golf package auctions which raise money for the individual chapters.
And if you happen to run across him on the course, be certain to take the full allotment of shots your handicap allows. Chances are, you'll need everyone of them.