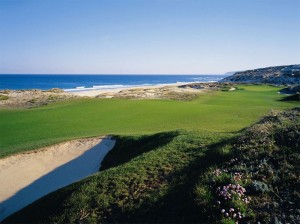 I was lucky enough to spend some time working in the Lisbon area with one of our PerryGolf groups recently and they really enjoyed the trip.  Lisbon is a fantastic, vibrant city full of character and has a friendly, relaxed atmosphere with some great bars and restaurants.
There is also great golf on your doorstep in the shape of the outstanding Oitavos Dunes and the courses at Penha Longa.  Further north, it is also well worth taking the trip to Praia del Rey which again is a great track.  As a fan of Portugal, since my return I read the below article with interest as this would make for a fantastic addition to any trip in northern Portugal.  When thinking of golf in Portugal, most people focus on the Algarve in the south and, true it has wonderful courses, but can be busy; so if you are looking for a trip combining golf, history, culture, great food and wine, you should look no further.. and I haven't even touched on the Port!
Click here for an interesting article on Portugal.
By Alastair Niven.  Alastair has been with PerryGolf for over 9 years and is one of our Golf Travel Specialists.