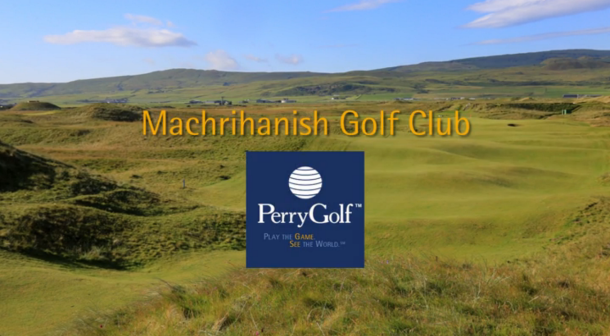 Machrihanish Golf Club is located in Argyll, Scotland, on the southern tip of the Mull of Kintyre between the Isle of Arran and the Hebrides. The club was formed in 1876 with ten holes. In 1879, it was "re established" when Old Tom Morris expanded it to eighteen holes including the famous first where your opening tee shot must carry across a corner of the Atlantic Ocean!
The 6,462 yard par 70 plays fast and firm through larger than normal Scottish dunes to greens some like punchbowls, some like plateaus. Otherwise, Machrihanish is one of the most natural links in the game. Its fairways pitch and roll, the views it offers are striking.
The only less than loving reflection you'd ever hear about this consistently ranked world top 100 course is its location on the Mull of Kintyre. The choices used to be a 3 hour road trip (from heaven, the scenery is spectacular the entire way) or a 40 minute flight. Now there's a third travel option and it is the ticket. The Kintyre Express is a speed boat ferry that crosses the Firth of Clyde with 12 passengers in just over an hour.
This exposed links course is one of the finest hidden gems in the British Isles and should not be overlooked on your next trip to Scotland.
Do you want to play Machrihanish Golf Club? Check out the PerryGolf Scotland Package below!

About the Author: Harrison Gould is the Social Media Marketing Manager of PerryGolf, a leading provider of international golf vacations. You can find him on Google+, LinkedIn, Twitter, Instagram, and Pinterest.