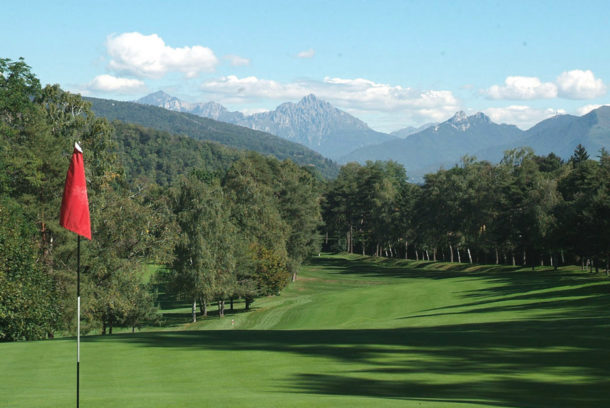 Toward the end of Tiger Woods' post-Masters press conference an Italian journalist asked the freshly jacketed champion about the 2022 Ryder Cup, which will be held for the first time in Italy.
Woods brushed off the query. The event is three years away. His answer was unimportant, anyway. The question – and the performance over the last year by Woods' final round playing partner Francesco Molinari – are examples that golf is thriving these days in Italy, a country with 250 courses and 90,000 regular golfers.
Earlier in the week, before he squandered the 54-hole lead, Molinari was asked about golf's growth in his homeland and to measure the impact of his impressive victory last summer in The 147th Open at Carnoustie.
PerryGolf's 2020 British Isles Golf Cruise includes final round of The 149th Open.
"I think fortunately, golf is starting to be, you know, very different now from where it was when I was growing up, and dreaming of just purely being here one time and playing in one major, would have already been a dream coming true," Molinari said. "So I think now, the situation is a lot better. Obviously I'm helping a little bit with getting golf in the news and hopefully, you know, kids will see more and more about me and about golf in general and pick up the game, and there's going to be more Italians in the future."
Molinari, No. 7 in the world golf rankings, wasn't the only Italian golfer who competed in Augusta in April, either. Four ladies participated in the inaugural Augusta National Women's Amateur, giving another indicator of the game's health in Italy.
With its Old World charm, beauty, culture and gastronomic delights, Italy has forever been a prime destination for travelers. Now, excellent golf options make it an even more attractive option.
PerryGolf's Best of Italy Escorted Golf Vacation is a 12-night tour from Aug. 30th to Sept. 11th in 2020 delivering five rounds of golf, including a round at Marco Simone, site of the aforementioned Ryder Cup in September 2020. Located 10 miles from the center of Rome, the club was named for the castle on the property which was built during the Middle Ages.
Jim Fazio and David Mezzacane designed the original golf course in 1989 and Marco Simone won the bid for the Ryder Cup in 2015, selected over courses in Austria, Germany and Spain.
The 24 competitors in the 2022 Ryder Cup matches – and the guests on PerryGolf's 2020 Tour – will tackle a completely redesigned golf course. Tom Fazio II (son of Jim Fazio) is working with European Golf Design to build holes that will test the best in the game. The renovation also creates a more efficient infrastructure, allowing the necessary room for hospitality suites and grandstands.
Golfers will continue to enjoy views of St. Peter's Dome on a property enhanced with new ponds, lakes and an irrigation system for the golf course.
"We are truly honored and fully committed to host an 'epic' Ryder Cup," Lavinia Biagiotti Cigna, President of Marco Simone Golf & Country Club, told RyderCup.com. "We are excited to share our passion and to open our doors to every player, amateur and fan who wishes to be part of the spectacular transformation that is taking place. We are working to build a strong legacy for the next generation of golfers."
Marco Simone will carve its place in the Ryder Cup's storied history soon enough. It's the centerpiece of any golfing journey to Italy but hardly alone in a discussion of the nation's elite golf courses.
Firenze Ugolino opened in 1934. The layout, designed by U.K natives Cecil Blandford and Peter Gannon, ripples through the Chianti hills, accentuating the landscape of olive trees and indigenous vines.
On May 1st, 1983 the late, great Seve Ballesteros chipped in for eagle on the 18th hole in the final round of the Italian Open to force a sudden-death playoff with Bernhard Langer and Ken Brown, which he won.
Villa d' Este, located near the beautiful Lake Montorfano was also designed by Gannon. The course sits roughly 1,200 feet above sea level and meanders through a variety of native woodland areas. A quaint par-69, this well-manicured course attracts the nation's premier golfers annually.
PerryGolf has delivered seamless customized trips to the world's premier international golf destinations since 1984. We are uniquely qualified to arrange every aspect of your vacation.