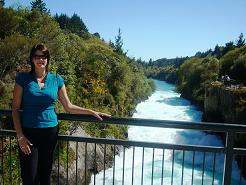 New Zealand is a beautiful country with so many unique and breathtaking sights.  One of my most memorable experiences there was when I visited Huka Falls in Wairakei Park; the largest falls on the Waikato River (New Zealand's longest river) near Taupo on New Zealand's North Island.  Huka Falls is only a short 5-minute drive north of Lake Taupo.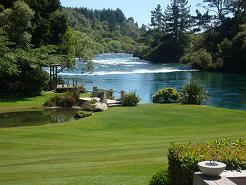 The Falls have to be one of the most spectacular sights I have ever seen; there are several viewing platforms and a 30-minute riverside walk that incorporates the many observation points.  Located along the banks of the Waikato River (about 300m from Huka Falls ) is the award-winning Huka Lodge – you couldn't imagine a better place to stay!  With just 25 rooms in total, they offer a relaxing, intimate and first class service.  Their dining experience is a must thanks to the Michelin star chefs working with local produce to provide an unforgettable culinary event for guests.  Located in the grounds is their wine cellar, an underground chamber that can seat up to 10 guests for dinner – but this is just one of the fun and innovative ideas that the Lodge has in place.  
In my mind, Huka Lodge is worth the expense, and incorporating a trip to the Falls is an absolute 'must do' on any vacation to New Zealand.
By Denise McKee.  Denise has been with PerryGolf for over 10 years and is one of our team members responsible for our South Pacific programs.