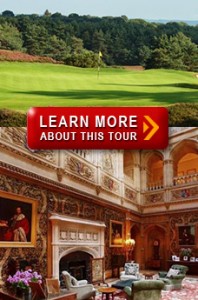 There is exceptional golf to play and PerryGolf has selected the very best in Sunningdale, The Berkshire and Walton Heath. We have also included Hampton Court Palace Golf Club which in addition to being a fine layout right by the River Thames, also holds the distinction of being the only golf course you can play on the grounds of a royal palace.

Hampton Court Palace Golf Club is situated on the River Thames. This is the only golf course in Great Britain where you can play golf in the grounds of a royal palace. The course has a wide variety of flora and fauna including a magnificent herd of 300 fallow deer and an oak tree, probably over a thousand years old. Course designer Willie Park, whose most famous creation was Sunningdale Old Course, did not create too many easy golf courses and Hampton Court Palace is no exception to this rule.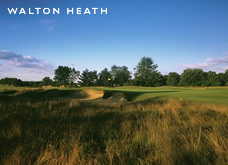 The famous Walton Heath Golf Club has staged both the Ryder Cup and European Open Championships. It was designed by Herbert Fowler in 1903. Set in the Surrey countryside lies on of England's best heathland courses. Fairways clad in heather and gorse and flanked on both sides by deep woodland of pines and silver birch. The club has a fascinating history, five times Open Championship James Braid was the first professional and members have included Winston Churchill and David Lloyd George.
Sunningdale Golf Club was established in 1901 and ranked as one of the top 20 courses in the world. The Old Course, founded in 1901 and designed by Willie Park, is the more famous of the two courses, but only acquired the title of Old when the New Course was built in the 1920`s. The Old Course is widely regarded as one of the finest inland courses in England, with 103 bunkers, with pine, birch and oak trees lining the heather culminating with the famous 18th hole and the final green below the "Sunningdale Oak Tree".

Founded in 1928, The Berkshire Golf Club is home to two Herbert Fowler designed courses, both of  which are widely regarded as amongst the best in the British Isles. The Berkshire is a traditional Members' Club which warmly welcomes visiting golfers all year round to enjoy the beauty of its pine and heather lined  courses, and to face the subtle challenges of Fowler's superb traditional design. Constructed by the office of Crown Lands on estates once used by Queen Anne for her hunting parties in the 18th century, this course is an absolute gem.
About the Author: Harrison Gould is the Social Media Marketing Manager of PerryGolf, the leading provider of international golf vacations. You can find him on Google+