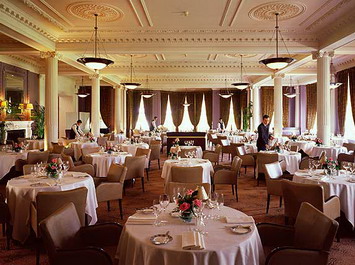 Gleneagles is a world-famous 5 Star Luxury Hotel in Scotland, known for its award-winning Spa & Golf Resort. Set within the gentle beauty of 850 acres of Perthshire countryside, this five star Leading Hotel of the World is home to three championship golf courses, a sparkling, award-winning spa and an exhilarating array of outdoor activities. Gleneagles will be the fashionable host of the 2014 Ryder Cup, a venue in which some people believe the Ryder Cup started. Not only is this luxurious Hotel known for it's golf, spa, and glamorous views; Gleneagles could be classified as the headquarters for fine dining. Some of the most prestigious restaurants in Scotland are located at Gleneagles. Some of these fantastic restaurants include: The Strahearn, Andrew Fairlie, and Deseo.
With two Rosettes to its name, The Strathearn serves classical French/Scottish dishes in an atmosphere that recalls the glamour of the hotel's art deco origins. From mountain lamb to game off the moor, aged beef to smoked salmon carved and flambéed at your table, each dish has been lovingly prepared by a dedicated team of award-winning chefs.
Andrew Fairlie is one of this country's most celebrated chefs and, with two Michelin stars, his exquisite restaurant is a sumptuous setting for a meal that will live long in the memory. Trained in the southwest of France, Andrew oversees a menu that blends the best in French and Scottish cooking, with an emphasis on outstanding ingredients from the Parisian markets and fine suppliers closer to home.
Not in the mood for French/Scottish cooking? Well try Deseo. This vibrant dining experience brings a real flavor of the Mediterranean menu to Perthshire. Designed like a bustling food emporium, Deseo is full of fresh ingredients and tempting aromas. Choose from light tapas dishes, pizzas from the wood-burning oven, fresh seafood and antipasto. Indulgent Italian deserts are a specialty of the house.