Click here for trip summary & overview
Day 51  Drive Turnberry/Gullane                                                                 Play Muirfield
Instead of rising at the crack of dawn for the originally scheduled 7:30 am starting time we were able to have a relaxing breakfast in the hotel's lovely dining room overlooking the golf course and out to the Irish Sea. It is one of the world's best views from a hotel window. We then had a visit with the hotel director and general manager Christopher Rouse (1995). It turned out that the best person at Turnberry to talk to about the architecture of the courses was George Brown, manager of courses. Fortunately, George was available, and we had a very productive meeting.
We drove 121 miles north and then east past Edinburgh to the pro shop at the Gullane Golf Club. In making arrangements to play Muirfield Plan B had been employed. My initial member contact did not respond, and then I got lucky with a group of Edinburgh golfers coming to play Baltusrol in September 1996. David Kirkwood, member of Gullane, put me in touch with Archie Baird. In the 1992 "O" Archie's famous golf museum (called The Heritage of Golf) was covered extensively.
Archie took us to lunch at the Gullane Golf Club. Then he and I were on the first tee at 2 pm as a twosome with golf bags on our shoulders and the course to ourselves. Dan was not allowed to play because Muirfield (rated 8, designed by Morris 1889 and remodeled by Colt and then Simpson)(first played October 1979 and again May 1992/total 3 rounds) does not permit three- or four-ball play on any afternoon. The weather was 65 degrees and mostly sunny and a light breeze. Archie wanted to play a friendly match, and he proved to be a fierce competitor with both  his clubs and his mouth. I did not stand a chance!
Archie was the perfect host. He knows an incredible amount about the design evolution of Muirfield. Equally impressive is his ability to turn a great phrase and even to spout poetry. We continued to benefit from his knowledge and enthusiasm with a tour of his museum and at dinner. Greywalls is a famous and impeccable Edwardian Scottish country hotel adjacent to the ninth green at Muirfield. Accompanied by Archie's wife Sheila (granddaughter of the famous golfer and course architect Willie Park, Jr.) we enjoyed a gourmet meal with excellent service. The whole experience at Greywalls was one of the very best on the trip and put the Glassdrumman to shame. A good night's sleep was obtained at the unpretentious Mallard Hotel.
Day 52  Drive Gullane/Glasgow                               Visit Brian Morgan's Golf Photo Gallery
Drive Glasgow/St. Andrews                        Play St. Andrews (Old)
My book will be mostly text with a few pictures that demonstrate unique architectural features. Brian Morgan (1994) is acknowledged to be the most competent golf photographer in the world, and I am fortunate to know him. We had discussed an arrangement over the phone, and then I made arrangements to visit his office during the trip. So Dan and I drove 73 miles to Glasgow and met with Brian's former wife Dorothy for five hours. She runs the office while Brian travels around the world taking golf pictures.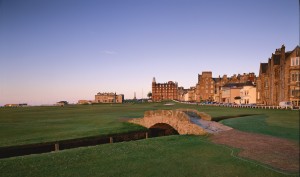 Then we drove 86 miles to St. Andrews, where I checked into Waldon House, which is the R&A's bed and breakfast adjacent to the eighteenth fairway of the Old Course. At 6 pm we wandered over to the starter's booth at the Old Course (rated 5, original layout sixteenth century with no known designer)(first played October 1979 and last played September 1996/total 5 rounds) and were amazed to find a totally vacant first tee. Dan was dying to play the course, so I asked the starter if we could play then. He said certainly, so I produced my R&A card, which allows free play. An added benefit was that Dan's 72-pound greens fee was reduced by 50 pounds because he was playing as my guest.
With clubs on shoulders we teed off in 60 degrees with overcast skies and 5-to 10-mph winds. We played the entire round unimpeded. As if on cue the sun came out on the thirteenth hole and bathed the whole course and the town in late-evening shadows. We finished at 9:30 pm and had a mediocre bar meal with excruciatingly slow service at a local pub.
Day 53  Play St. Andrews (Old)                                            Drive St. Andrews/Carnoustie
Play Carnoustie (Old)                                              Drive Carnoustie/Newburgh
Arranging to play the Old Course is difficult, even for an R&A member. Thanks to Euan MacGregor, finance and administration manager for the St. Andrews Links Trust, I was given a 6:50 am time, which was just before the field started. Euan had also arranged for Walter Woods to join me in a twosome. Walter just retired after 20 years as links supervisor for all five courses under the Links Trust. He is an excellent golfer, has an unrivaled knowledge of the Old Course, and gave us some valuable insights into the recent history of the course. Dan walked with us and particularly admired the way Walter raked the two bunkers he was in — efficiently and with a surgeon's stroke.
We played the round with no wind, 60 degrees, and overcast skies. When we teed off there must have been 50 people surrounding the starter's booth. Many were single players hoping to fill in for a no show. Our round was completed at 9:45 am, so within 12 hours I had finished two unimpeded rounds on one of the busiest courses in the world carrying my own bag.
Dan and I then drove north for 24 miles to Carnoustie (rated 21, designed by Robertson 1842 and remodeled by Braid)(this was my first links course played October 1979 and again May 1992/total 2 rounds). We said hello to David Curtis, Secretary of the Carnoustie Golf Club, which is a separate entity from the municipally run golf course. After lunch the club historian Bill Coupar spent some time with us.
At 2:30 pm Dan and I were off the first tee as a twosome in 60 degrees, 5 mph, overcast with a threat of rain. Play was slow; two Englishman joined us on the ninth green; and then it rained on holes 11 through 15. We finished in the gloom at 6:30 pm. Then we talked with the course superintendent John Philp for one hour. We would have talked to him longer because he was full of knowledge and enthusiasm about the architecture of the course, but we had a long trip ahead of us.
At 7:30 pm we left Carnoustie and immediately stopped for some traditional Scottish cuisine — fish and chips. We nibbled at the food while driving 85 miles in heavy rain and fog through Aberdeen to the village of Newburgh and the Udny Arms Hotel. At 10:30 pm I registered, and Dan went down the road to a bed and breakfast. After hauling my luggage to the third floor I collapsed and fell fast asleep.
At 11:45 pm I shot awake with the ringing of the phone. It was the front desk demanding to know where my traveling companion was. I told them two things: 1) the reservation had been canceled several weeks before and 2) they had no business calling my room at 11:45 pm to make such an inquiry! I pointed out that they could have made the inquiry when I was checking in. Then I tried to go back to sleep and was immediately hit by severe cramps in the backs of both upper legs. After doing battle for the next half hour the cramps went away, but sleep did not resume until about 2 am.
Day 54  Play Cruden Bay                                                      Drive Cruden Bay/Skibo Castle
I  was up at 6 am and told the front-desk clerk I was not going to pay for my room because the hotel did not provide the environment for the basic service of a decent night's sleep. I also said that it would be appropriate for the hotel to write me a letter of apology if the room had indeed been canceled in the proper manner.
Subsequently it was determined that the room had definitely been canceled according to the official policy established by the hotel and there was a written record of such cancellation. Not surprisingly, when I returned to the U.S. I found the room charge on my credit card statement and no letter of apology. I will not bore you with the subsequent correspondence with the self-righteous hotel manager Jennifer Craig, who strongly claims never to have made a mistake. Suffice it to say that the hotel can now be referred to as the  "Ugly Arms."
Now back to the golf. Dan and I drove five miles north to the Cruden Bay Golf Club (rated 99, designed by Fowler and Simpson 1925)(played one round July 1992). In the car park the weather was foggy, drizzly, windy, and cool. I decided to pack the golf bag with a complete set of foul weather gear, and we set out at 8:30 am with bags on our shoulders. Some of the holes at Cruden Bay are extremely hilly and the walk between the eighth green and the ninth tee is like climbing the Swiss Alps. The sun came out early in the round, and the temperature rose to 70 degrees. With 36 holes the previous day, the long drive, the Ugly Arms special treatment, and an unnecessary heavy golf bag, I was pooped by the end of the round.
After lunch at the club we drove 156 miles north to Dornoch, where Dan said goodbye. (He played 46 holes in drenching rain at Royal Dornoch from 5:30 pm to 10:47 pm and then drove to Glasgow where he hit the hay at 3 am.)  I drove to the nearby Carnegie Club at Skibo Castle for the night. The first thing I did upon arrival was to request laundry service because I was down to my last you know what.
In 1994 I was at Skibo before the official opening and ate dinner with just three other people in the main dining room at a long table that could easily have held 30 people. In 1995 I returned after the club was officially opened and ate at the same table with nine other people. In 1997 the bustle of activity throughout the entire complex was noticeable. Not only was the main dining table entirely occupied, but a side table holding ten was also full. What amazed me was the proliferation of young people (one American had his wife and four children ages 18 through 25 along). It was pleasing to see the realization of owner Peter de Savary's hard work and dream.
Day 55  Play Royal Dornoch                                     Drive Dornoch/Loch Lomond
I was up at 5:30 am and on the first tee of the Royal Dornoch Golf Club (rated 13, designed by Morris 1886 and remodeled by Sutherland and then Duncan)(first played September 1986 and again July 1992/total 6 rounds). The weather was miserable — cold, windy, rainy. I played by myself and pulled a trolley.
After golf I had a long talk with the club secretary John Duncan and then another long talk with  Willie Skinner, head professional for 24 years. At dinner the previous night Allan Grant, Skibo golf secretary, had made arrangements for me to meet with two of the older Dornoch members who were knowledgeable about the course architecture, John Grant and Tommy McCulloch, and I had a very informative chat with them.
I returned to the Castle and had lunch with the club golf professional Willie Milne. We were going to play 18 holes on the Carnegie Links, but a two-hour-long downpour made that plan inoperative. Instead I started south on a 221-mile scenic drive and was exposed to high Scottish mountains and some beautiful lochs.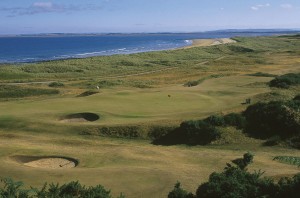 Unfortunately, the trip was partially marred by overcast skies and frequent rain showers.
The long tour delivered me to the Lodge on Loch Lomond at 7 pm. At the reception area I was asked if I wished a dinner reservation. Giving an affirmative answer, I was told 9 pm was the first available time. Because the hotel restaurant also did business with non-hotel guests I asked why paying $130 for a room did not entitle me to a preferred time. Not receiving a satisfactory answer I went into the dining room and was pleased to find several empty tables. Pointing this out to the management of the hotel did immediately produce a table. However, in order to charge the meal to my room I had to surrender my room key to the maitre d' until I signed the check after the meal. For all this aggravation  I received an average meal with average service.
Day 56  Play Loch Lomond                                                   Drive Loch Lomond/Ganton
I woke up at 6 am and threw open the curtains to find very dark skies, light rain, and strong winds. I met playing companion Colin Dalgleish (he runs the part of PerryGolf located in Scotland) at a little after 7 am outside the temporary clubhouse of Loch Lomond Golf Club (rated 44, designed by Weiskopf and Morrish 1994)(played two rounds July 1995). We were scheduled to have the first tee time at 7:30 am, but eight eager Americans were approaching the first tee. Luckily they permitted us to hit off first, and we sped around in two hours and 45 minutes carrying our own bags.
Even though the weather threatened all the way around and we wore rain gear, it hardly rained. The temperature remained in the 50's, and on the exposed parts of the course the wind blew 25 mph. However, because many of the holes are sheltered by many tall and thick trees there was not a constant battle with the wind.
After a quick early lunch I spoke briefly with the head professional Colin Campbell (the day had been arranged by Michael Daswick of the Lyle Anderson Group in Arizona). Then Colin and I had an extensive tour of the impressive new clubhouse facilities by Keith Williams. Keith arrived at Loch Lomond in February 1997 to direct construction after having done the same thing with a multimillion-dollar expansion and modernization of Wentworth near London.
Then I drove 268 miles southeast to England (Yorkshire) and the small village of Ganton near the city of Scarborough. During the trip the skies continued ominous with occasional heavy showers. I arrived at the Ganton Greyhound at 5:30 pm in a heavy downpour. The chief Greyhound was the burly owner Terry Bennett. He showed me to a room overlooking the busy main road. I asked if there was something quieter and was strongly informed that all the rooms were taken. However, Terry did assure me the traffic noise would die down later in the evening. He was correct on that score, but he forgot to mention that my room was directly over the public bar. In Japan I was subjected to paper thin walls and now at the Greyhound I was resting on a paper thin floor. The noise level from the crowded bar increased with each passing hour, and I finally fell asleep in the wee hours of the morning.
Day 57  Play Ganton                                                              Drive Ganton/Lytham St. Annes
I was up at 6:30 am on a cold day with no heat in the room and no hot water. Breakfast service began at 8 am, but there was a sign saying "A continental breakfast may be taken earlier if requested the previous day." You would have thought I was asking for the crown jewels when I inquired about receiving the continental breakfast.
At 8:15 am I was on the nearby first tee of the Ganton Golf Club (rated 67, designed by Dunn 1891 and remodeled by Vardon, Colt, Hutchinson, Fowler, Ray, Braid, Hilton, Cotton)(played September 1985) with a pickup member arranged by the friendly caddiemaster. It was 60 degrees, no wind, and misty. Light rain fell occasionally throughout the round.
Arrangements for this day had been made by the club secretary Major R.G. Woolsey, who had sent along several pages of course history before the trip started. After golf, the assistant club secretary Mrs. Jean Matthewman provided more written data and sandwiches. Then it took about three hours to drive the 138 miles due west across country from Ganton to Lytham St. Annes. At the Chadwick Hotel in St. Annes I had dinner with John Twissell (1985), who had made arrangements for golf the next day.
Day 58  Play Royal Lytham              Drive Lytham/Southport                    Play Royal Birkdale
At 7:15 am I arrived at Royal Lytham (rated 58, designed by Lowe 1886 and remodeled by Simpson, Fowler, Colt, Morrison, Cotton, Steel)(first played September 1985 and last played May 1989/total 3 rounds) and found John Twissell and our host Dr. Steven Reid. Steven was recently captain of the club, has written a course history of County Sligo (Rosses Point) in Ireland, and is very knowledgeable about the Lytham course history. Before play one of the crises of the trip had to be addressed. The wings on my collapsible long putter were constantly coming loose with tightening required. I bit the bullet and asked a nice young man in the pro shop to give the implement a sound tightening. He obliged, and the problem disappeared for the rest of the trip.
We teed off on that late June day with the sky partly sunny, the temperature in the high 50's, and a wind of about 10 mph. Lytham is a true links course, but no body of water is anywhere in sight. Considerable discussion centered on how far away the water was that once covered the course. The answer is about 800 yards.
After the round and lunch in the main dining room I went to see the club secretary Lytton Goodwin  to ask him to call Royal Birkdale to see if I could play there that afternoon. I wanted to reshuffle the deck to take advantage of the good weather and also avoid the killing schedule I had set for the following day (a doubleheader of Birkdale and Liverpool plus a long drive to Woodhall Spa). The answer was affirmative.
I then drove 40 miles to Southport and found Royal Birkdale (rated 26, designed by Low 1889 and remodeled by Hawtree)(first played September 1985 and last played May 1989/total 3 rounds). The club secretary Norman Crewe was most cordial, and we had a long talk about the rebuilding of the Birkdale greens. At 5 pm I was out on the course by myself pulling a trolley. It was 55 degrees, partly sunny, and 20 mph. Play was somewhat slow on the front nine.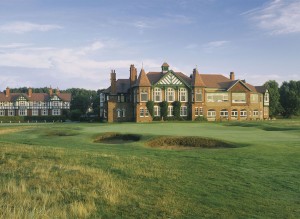 On the tenth tee I was joined by host Gordon Jeffrey (1989), who was captain of the R&A in 1995. Gordon had arranged a foursome for the next morning but was understanding when I told him about wanting to accelerate the schedule. On the back nine Gordon acted as caddie by pulling my trolley. The early-evening shadows outlining the tremendous sand dunes at Birkdale were a bonus. Gordon then took me to dinner, where I was able to thank him and Birkdale for adapting smoothly to my new schedule. I was at the Scarisbrick Hotel by 10:30 pm.
Day 59  Drive Southport/Hoylake    Play Royal Liverpool     Drive Hoylake/Woodhall Spa
I was up at 6 am for a 33-mile drive south through the Liverpool tunnel and out to the town of Hoylake. At 8 am I met with Royal Liverpool (rated 82, designed by Morris and Chambers 1869 and remodeled by Colt and then Pennink)(first played September 1985 and last played May 1989/total 5 rounds) club secretary Group Captain Christopher Moore. Member John Behrend (1989) had made the initial introduction to the club on my behalf. At 9 am I was on the first tee with member Dr. John Graham, who is a good friend of Lytton Goodwin. The weather was 45 degrees, partly sunny, and 15 to 20 mph. On the downwind 374-yard par-4 second hole came the shot of the trip. After I hit a 9-iron second shot, neither John nor I could see where the ball finished up because a bunker lip hid part of the green. When we arrived at the green the ball was nowhere in sight, so I looked in the cup and there it was — eagle two!
After lunch with John I drove 198 miles south and east to the village of Woodhall Spa. This is not an easy place to get to, and I was grateful not to have had to do the navigating in the dark as called for by the original schedule. At the Golf Hotel an average dinner was presented, but the sleep was restful.
Day 60  Play Woodhall Spa                                                        Drive Woodhall Spa/Ascot
After a 7:20 am continental breakfast I drove about 500 yards to the entrance of the Woodhall Spa Golf Club (rated 29, designed by Hotchkin and Hutchinson 1926)(played two rounds September 1985) clubhouse and was greeted by manager Ben Fawcett. He offered a caddie, but I said playing alone was preferrable. At 8 am I set off in full foul-weather gear pulling a trolley in 55 degrees with no wind, and light rain. This is a heavily tree-lined course, and after each of the first 12 holes I was able to huddle under a few of them to write my notes with a ball-point pen. A felt-tip pen does not work if the least bit of moisture is present. Fortunately, I had one ball-point pen with me.
Rain poured down heavily during the last six holes, so the umbrella came out and I wrote my notes while juggling the umbrella in a steady breeze. Coming down the eighteenth hole I was moving very slowly and felt about as tired as at any time during the trip.
A quick change had me looking presentable for a long discussion and an enjoyable lunch with the club president Neil Hotchkin. He had inherited the club and the surrounding land 40 years before and had recently sold the club to the English Golf Union (EGU) to be used as its national training center for amateur golfers. Neil has been active in the EGU for many years.
The route out of Woodhall Spa is not any easier than the route in. After 11 different junctions and 4 hours (178 miles) in pouring rain and medium-to-heavy traffic I arrived on the western outskirts of London and the Cottage Inn in Maidens Green. There I was informed that my reservation was not reconfirmed and therefore no room was available. They then arranged for a room in the next town, and I maneuvered my way to Ascot Place, a bed and breakfast just across the street from the Ascot race course. Unfortunately, there was a dog in the house with a loud bark that was in evidence until midnight.
An excellent "bar" meal was enjoyed at the nearby Rose & Crown in Windsor. The service was superior, and there was no pretense of seeking a tip.
TO BE CONTINUED

About the Author: Gordon Dalgleish is the Co-Founding Director of PerryGolf, the leading provider of international golf vacations. You can find him on Google+