Click here for trip summary & overview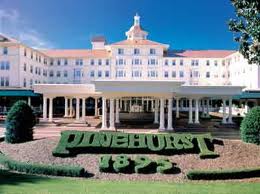 Day 11  Play Pinehurst (#2)                                                     Drive Pinehurst/Cashiers
In arranging the trip there had been some doubt about the availability of Pinehurst #2. They are hosting the U.S. Open in 1999 and had closed the course in 1996 to regrass all the greens. Fortunately the job went smoothly, and the course reopened in March 1997. Over the past few years I have been dealing with Mrs. Gaynell Greene, the secretary to the director of golf. She had kindly arranged for us to be the first group out as a twosome at 7:30 am. We had a conversation with the starter, who told us play was limited to 110 people a day on the #2 course. This was pleasantly surprising because Pinehurst (#2 course rated 9, designed by Ross in 1903 and massaged by him through 1935)(first played November 1965 and last played November 1992/total 4 rounds) is a busy resort that also has membership play. Again I had to reflect upon the comparison with the excessive heavy play at the TPC at Sawgrass.
On the first tee it was a cool 60 degrees with bright sun, no clouds, and a slight breeze. With no one in front we played in an unhurried four hours. The rangers were friendly. The new greens (Penn G2 bent grass) were perfect, and the cups were cut as sharply as I have ever seen.
We then departed on one of the longer and more difficult drives of the trip. Wade Hampton is at the very tip of southwestern North Carolina and high up in the Great Smoky Mountains. The last hour of the non-Interstate 250-mile drive was tedious. Because of the steep mountains the narrow road snaked up, down, and around in very tight turns. Halfway into this agony I was dying to reach the finish line, and then there would be another road sign indicating that we had a ways to go. Mercifully we eventually reached the Wade Hampton's guarded entrance by 6 pm and collapsed in one of its rustic cottages.
At 7 pm we went over to the clubhouse and were greeted by Willaim McKee (1991), the creator and owner of Wade Hampton. He had invited eight golfers (a mixture of Wade Hampton members and guests) to listen to an informal presentation by yours truly. It was an enjoyable evening, and William kept referring to the trip as "The Amazing Odyssey."
Day 12  Play Wade Hampton                                                 Drive Cashiers/Chattanooga, TN
William took us to an early and full breakfast at the nearby High Hampton resort, which is owned by his family. At 9 am we were on the first tee with William and John Pickerel (1991), director of  marketing. It was cloudy, windy, and 60 degrees with refreshing, clean mountain air. The club has an active caddie program during the season, but that day only motorized carts were available. Wade Hampton (rated 77, designed by Fazio in 1987)(first played June 1991 and last played October 1996/total 9 rounds) is a private course for landowners in the surrounding upscale real estate development. After lunch we were back on the winding road going west to Chattanooga.
After 120 miles we arrived at  Elder Mountain and the home of  Betsy and Bob Montague (1990) at 5 pm. Thanks to Betsy we were treated to the first home-cooked meal of the trip. We also  watched the Weather Channel closely because the forecast was calling for heavy rain during most of the next day.
Day 13  Play The Honors                                                 Drive Chattanooga/Birmingham, AL
The next morning we drove east past the city of Chattanooga and out to Ooltewah. At 8:45 am the three of us were on the first tee at The Honors. This is a private golf club (rated, 57 designed by Dye 1984)(first played April 1987 and last played October 1992/total 4 rounds) with absolutely no housing surrounding the property. As you have learned from previous "O's" Bob has only one leg (he lost his left leg to bone cancer at age 15) but has a strong single-digit handicap and can walk the entire course if need be. Today he took a cart, I had a caddie, and we had the course to ourselves.
We  started off with a beautiful day — 70 degrees, no wind, mist being burned off by the bright sun. By the sixth hole some really dark clouds had arrived, and on the eighth hole the clouds opened up. We plowed ahead, and by the fourteenth hole the sun reappeared. Lunch was enjoyed on the clubhouse patio, and then it was back in the car in the early afternoon.
After a quick 176-mile drive on non-winding Interstate roads we arrived at the home of Gaynell and Buell Moore (1990) in Shoal Creek (watch set back one hour). The Moores treated us to dinner at the Shoal Creek clubhouse with  Hall Thompson (1992), the club founder, and his wife Lucy. Five years before I had had the pleasure of having dinner with the same group. During the meal there was some kidding about the agreement of both Hall and Buell to start play the next day at the ungentlemanly hour of 8:15 am. When Buell was a member of Canoe Brook in Summit, NJ, he organized a 10 am group because he felt gentlemen should not play golf before 10 in the morning.
Day 14  Play Shoal Creek                                                         Drive Birmingham/Atlanta, GA
Around 7 am Gaynell produced her famous Southern breakfast, including grits. After this fortification it was off to hit a few practice balls and then to the first tee as a foursome with caddies.  The weather was perfect — bright sun, 70 degrees, light wind. The reason for the 8:15 am starting time was the need to be ahead of the club's Saturday morning men's event called the "dog fight." Being out ahead of the field gave us the luxury of having the course to ourselves.
Shoal Creek Golf Club (rated 69, designed by Nicklaus 1977)(first played October 1982 and last played October 1992/total 5 rounds) is a private club with a few homes spread inconspicuously throughout several hundred acres. In the 1992 "O" I discussed Hall in detail. Suffice it to say, I consider him to be one of the most substantial people in the business, golf, and philanthropic areas that I have ever had the honor to meet.
A relaxed lunch in the clubhouse was followed by a 166-mile drive on the Interstate to Atlanta and the home of Bonnie and David Heinsma (1959) (watch set ahead one hour). My next two hours were spent consolidating all the loose paraphernalia strewn around the car into three pieces of luggage for air travel. The luxury of having one's own car would disappear the next afternoon. I would be living out of  a suitcase for 53 consecutive days. One group of items that you might not think of as bulky were the folders for each course. I had individual folders containing key correspondence, a rough draft for the book on the course, and lodging information pertaining to where I was staying near the course. Having to stuff 53 of these folders into the luggage made for a very tight fit.
For a change of pace in our food intake, dinner was at Little Szechwan.
Day 15  Play Peachtree                                                                           Fly Atlanta/Tulsa, OK
David joined us on a short drive to the sedate Peachtree Golf Club, where we were meet by host Walter Driver (1993). Peachtree (rated 75, designed by R.T. Jones and Bobby Jones 1948)(first played May 1976 and again April 1993/total 2 rounds) is a very private, low-key club. We had the course to ourselves on Sunday morning at 10 am. The foursome teed off in bright sun, no clouds, light breeze, and 70 degrees. Walter is very knowledgeable about the architecture of the course and was helpful in pointing out some of the subtleties.
Following play the golf bag was quickly packed, including a long putter with a collapsible shaft. I have played with a 52-inch Ping B90 for the past five years. However, it takes about five extra minutes to pack and about two extra minutes to unpack. In March I met a golf club inventor who assembled putters with  "Long-Lock Collapsible Shafts" that easily slip into a golf travel bag. The club does not come apart like a pool cue because that is illegal (could be turned into two clubs). The functionality of the collapsible shaft was offset by the ugly head — a hunk of aluminum with two long gull-winged runners. Needless to say, this head drew many comments such as "Does it fly?" and  "Does it play a tune?" When it comes to putting I'm not particularly proud about the implement if it gets the job done reasonably well. However, once the airplane segments of the trip had been completed, the collapsible putter was retired to a dark closet, never again to see the light of day.
From Peachtree it was a quick 36-mile trip to the busy Atlanta Airport. A sight for concerned eyes was  Bill Bennett (1973), who had kindly agreed to fly in from New Jersey and drive my car back to Springfield.
The original schedule had me flying from Atlanta to Ft. Worth, but as previously mentioned the deck had been reshuffled and we went straight to Oklahoma. This forced change had a wonderful benefit in that we were able to stay with my younger brother Doug and his lively family for the next three days. At 5 pm American Airlines took us 674 miles to Tulsa, where Doug met us (watch set back one hour). We then went to his new home and were greeted by his wife Regina, daughters Stacy and Jenny, and twins Sara and Patrick. Doug demonstrated his famed ability on the outdoor grill by producing delicious steaks.
Day 16  Open
Because Day l6 had originally been reserved for Colonial, it became our second open day; I did not want to bother the other courses on this short leg with possible changes. In addition to  laundry there was some catching up done on writing up trip notes. At 6 pm it was off to Doug's second daughter Jenny's softball game. She is the star pitcher for the Blazers, who play out of the Jenks Park recreational facility. Regina produced individual lawn chairs for comfortable viewing, and  the pop corn stand was found. Jenny was a major contributor to her team's 11-to-10 victory (two runs batted in, one run scored, and, most important, five assisted putouts). A McCoy victory celebration was held at The Bistro at Seville.
Day 17  Drive Tulsa/Edmond                 Play Oak Tree                            Drive Edmond/Tulsa
At 6:10 am Doug's high-performance BMW shot out of the garage, the radar detector was activated, and we zoomed along Interstate 44 at roughly the official speed limit of 75 mph for 116 miles. Heavy spring rains made the countryside green. The tree-lined landscape is occasionally dotted with stripper oil well rigs or cows. Oak Tree Golf Club (rated 90, designed by Dye 1976)(played one round May 1981) is a private club 20 miles north of Oklahoma City in a spacious real estate development. The friendly and efficient assistant pro Chad Barney had been most cooperative on the phone and was the same upon our arrival.
At 9 am we were a threesome on the first tee with clubs on a motorized cart and no one on the course. A picture-perfect day was evident — bright sun, dark blue sky, no clouds, and a temperature of 65 degrees (eventually reached 80). The course proved to be another battle with Pete Dye. He is famous for steep bunker faces shored up by railroad ties. These are here in abundance as well as lake edges supported by planks. Oak Tree wins the award for the use of more milled wood than any other course in the world. There is the feeling that if the course were set on fire half the hazards would disappear. To the left of the sixteenth green is a tall dead tree with a hangman's noose dangling from a limb. By this time the course has knocked the stuffing out of you, and there is the urge to imagine the diabolical Dye swinging at the end of the rope. Following the round Chad informed us that Willie Wood, mediocre PGA Tour player, held the course record with an unbelievable 61.
After lunch at McDonald's we headed back to Tulsa, where we put Doug on a plane. Unfortunately, duty called, and he had to be in Baltimore with the mayor at an official ground- breaking ceremony for Doug's new building. He is senior vice president of Metris Companies, which has been his second very successful credit-card-company start-up. A very good evening meal was had at Gradys.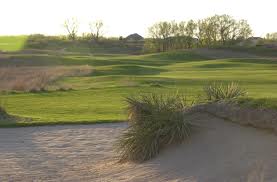 Day 18  Play Southern Hills                                                       Drive Tulsa/Hutchinson, KS
With Doug in Baltimore my companion and I drove a short but traffic-clogged distance to Southern Hills Country Club. At 8 am we were greeted by host John Baumgarner and head pro David Bryan. Several years ago my friend Tom Hassen (1970) had sent John an "O," and John (an executive with the Williams Company) had called with an open invitation to play Southern Hills. After a few practice balls on the spacious and well-laid-out range (including a large short-game area) we were off to the first tee. The weather was again picture-perfect with bright sun, no clouds, light wind, and 65 degrees climbing to 80.
Southern Hills Country Club (rated 42, designed by Maxwell 1935)(played one round July 1977) is an active full-facility club surrounded by many houses and busy roads. The foursome in front of us was really moving, and John informed us that the normal round at Southern Hills consumes 3 ½ hours. I was fascinated by the many varieties of old trees. John said Oklahoma did not become a state until 1904 and the course has 100-year-old Indian directional trees. I was also impressed by a ground crew that was well organized, hard working, and effective.
John treated us to a hearty noon meal in the active men's grill. Then it was back to Doug's home to pack. Just before 7 pm we met Doug as he flew into the Tulsa airport on a private jet after his day with the Baltimore city officials. Dinner consisted of shrimp, crab meat, and smoked salmon from Doug's plane and was enjoyed in the airport lounge. Then it was a 260- mile drive west and then north to the Ramada Inn in Hutchinson, Kansas.
Day 19  Play Prairie Dunes               Drive Hutchinson/Wichita              Fly Wichita/Denver, CO
After a  6:30 am large and cholesterol-filled buffet breakfast we drove a short way out of town in the countryside and reached the course at 7:30 am. During the planning and execution of the trip I came into contact with many hard working, efficient, and courteous head professionals. Thus I am reluctant to single out a particular person, but Prairie Dunes has one of my all-time favorite head professionals, Charlie Craig. He has been at this country club open to the public (rated 25, first nine designed by Perry Maxwell 1937 and second nine designed by Press Maxwell 1957) (first played May 1981 and again June 1993/total 2 rounds) for 29 years and had been most cooperative on my previous visits. He is quiet, sticks to the point, has a friendly smile, and does everything. On Day 19, at that early hour, Charlie was manning the shop by himself and also seeing that the motorized carts were in their appropriate places for convenient use.
At 8 am we were a threesome with our bags on pull carts. With the first tee time of the day we had the whole course open in front. However, Prairie Dunes is a very busy operation, and we had to keep moving at a fairly swift pace so as to avoid holding up the foursome directly behind. It was partly sunny, 65 degrees, with a light breeze. By the time we reached the tenth tee the sun was bright and the temperature was in the mid 70's. On the twelfth tee there is a panoramic view of the hundreds of acres exactly as Perry Maxwell first saw this special terrain — some beautiful trees; some scrub trees; tall, wild, brown grasses; and the many unexpected sand dunes in a part of the country that is dead-flat farm land.
After golf we had an informative discussion with Charlie while he also served several customers who had a variety of needs, including a Bandaid for a hangnail. After another McDonald's lunch we drove 50 miles to the Wichita airport for our 428-mile 4:30 pm United flight to Denver. Doug returned to Tulsa. From the Denver airport (watch set back one hour) a cab took us 30 miles to the Quality Inn South in Englewood, where we had a much-less-than-high-quality dinner.
Day 20  Play Cherry Hills        Fly Denver/Phoenix/Mexico       Drive Airport/Cabo San Lucas
At 6 am a Russian cab driver, Dmitry Kroner, took us and all our luggage from the motel to the nearby Cherry Hills Country Club (rated 62, designed by Flynn 1922)(first played July 1973 and again May 1991/total 2 rounds). We made arrangements for Dmitry to return at 11 am. At 7 am we were joined on the first tee by caddies and the head professional Clayton Cole. Cherry Hills was one of the very few courses where I had thought I had a friendly member and was surprised not to receive a response to my initial communication. Plan B was to contact Mitch Milias (1973) in Los Angeles, who then produced Cherry Hills member Bob Manning as my host. Then Bob had to be out of town, so he asked Clayton to look after us.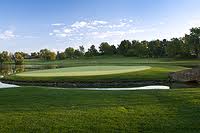 Clayton was terrific. He is a superior player, having qualified for the Senior Open played at Cherry Hills in 1993. He had some interesting stories about playing practice rounds with Palmer and Nicklaus. Clayton was also very informative about the evolution of the design of the course.
Needless to say at 7 am we had the course to ourselves. The energetic young man on my bag was Rob the caddiemaster. The first tee is 5,361 feet above sea level, which is the highest of any world 100 course. This made me reflect on the fact that just two weeks before I  had been below sea level at the TPC at Sawgrass. From the first tee at Cherry Hills there is a spectacular panorama of the snow-capped Rocky Mountains. The sun was bright, there were no clouds, the sky was a dark blue, and it was about 65 degrees. The day was so clear we could see Pikes Peak 70 miles away.
Just before 11 am Dmitry took us to the Denver airport for an America West 2:15 pm flight. In creating the original itinerary I was concerned about this tight scheduling. However, thanks to Bob Manning, Clayton, and the weather the Denver part of the trip was a breeze. After a 589-mile flight we were greeted in Phoenix by 103-degree weather. For some reason Phoenix is not on Daylight Saving Time so my watch was set back one hour. The 3½-hour layover was productive in terms of writing on the computer. The next leg was a 6:30 pm America West 721-mile flight to Mexico, and we eventually arrived at the Los Cabos airport at 9:45 pm. This was the last flight in, and my bags were the last ones off the carousel. While we were going through passport control a Mexican government official struck up a short conversation.
We were at the very southern tip of the Baja California peninsula (called Baja California Sur). After picking up a Budget car rental (35,000 hard miles on the odometer) we had a 26-mile drive in total darkness to the Los Cabos Golf Club apartments. In the research for the trip it was discovered that the starting price for a room in this rapidly growing tourist area was over $225 a person. However, I had an ace up my sleeve; Best Golf in Aliso Viejo, CA (888-817-4653), produced newly constructed accommodations for $90 a person. Before hitting the sack I set my watch ahead one hour because this part of Mexico is on Mountain Daylight Time.
TO BE CONTINUED
About the Author: Gordon Dalgleish is the Co-Founding Director of PerryGolf, the leading provider of international golf vacations. You can find him on Google+