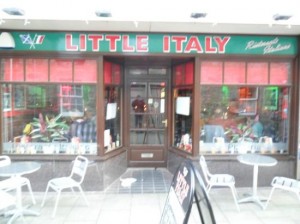 We are asked by many of our clients to recommend dining options for them, so it is always good to hear when clients really enjoy a particular dining experience.  One such restaurant that consistently receives  rave reviews from our clients is Little Italy in St. Andrews.  It is a small family run restaurant with an Italian owner who is passionate about food and serving great traditional favourites in a warm, bustling atmosphere.  The quality of food is such that we had a group of 8 guys there last night who promptly cancelled their reservations at a completely different restaurant for the following night so they could go back to Little Italy again!  I have eaten there myself and certainly agree that the food, wine and atmosphere are great.  
Make sure you pay them a visit the next time you are in St. Andrews – might be best to book in advance though!
By Alastair Niven.  Alastair has been with PerryGolf for over 13 years is one of our Golf Travel Specialists.