Machrihanish Golf Club is one of Scotland's true hidden gems. Situated on the Southern tip of the Mull of Kintyre, the course is not easily accessible by road and is often excluded from itineraries purely because of its location. The journey time by road from Glasgow Airport is at least 3 hours, but by sea the time can be more than halved. Most people will travel to Machrihanish whilst spending time in Ayrshire – usually in Troon or Turnberry – and with the Kintyre Express making the journey much more achievable, I think it is an excellent addition to any schedule. Check out our website for more information on the Kintyre Express.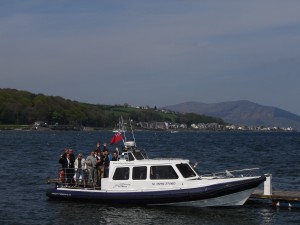 I was lucky enough to get the opportunity to play the course earlier this year and had an outstanding experience. Our departure time from Troon was 9:00am for an 11:30am tee-time – which was ideal as it gave me enough time to travel down from my home and stop for a bacon sandwich en-route. The journey between Troon and Campbeltown was quicker than I thought and Wilson Smith, the captain of the Kintyre Express, gave us a running commentary of the surrounding area as we progressed. When we arrived at Campbeltown Harbour, two taxis were waiting to transfer us to the golf course as Wilson had called in advance and made the reservation. After a short taxi journey, we arrived in time for a quick warm up, a few putts, and were then faced with the first tee-shot over a corner of the Atlantic – no warm up could have prepared me for that. I was delighted to walk to the 2ndtee with a par. The rest of the course did not disappoint; each hole had its own character and offered something a little bit different. Machrihanish is not a long course with the onus put on hitting the ball straight off the tee for good lines to the greens. They have recently added some new tees to the course and I'd recommend single figure handicapped players play from the blue tees – the club is quite relaxed and will accommodate players who wish to do so. After golf there was enough time for a light bite and a couple of pints before the taxis picked us up again to transfer us back to Campbeltown Harbour to meet Wilson and the Kintyre Express.
The entire day was a great experience which I'd recommend to anyone spending a couple of nights in Ayrshire. It is something a little bit quirky and a memorable way to add a course which is in the Top 100 in the World to your schedule.
By Gary Sheppard