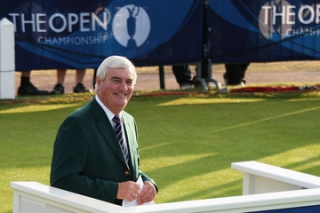 Ivor Robson is comfortably the most recognizable starter in the game of golf.  Having worked as an official starter for the European Tour since 1975, Ivor has worked at 39 Open Championships, many Ryder Cups, and countless European Tour events.  Hopefully he can do the job for many years to come, and I'm sure he is relishing the opportunity of being the starter at Gleneagles for the Ryder Cup in 2014.
He is probably best known, amongst other things for his robust, authoritative but pleasant voice…and for never leaving his post on the first tee. He does this regardless how long tee times extend, e.g. during the first two rounds of the Open Championship this may be for 8 hours or more.
Ivor's home club, Moffat Golf Club in Dumfriesshire, recently awarded him with honorary membership; a fitting award for someone described by Peter Allis as 'a quiet and modest man, who epitomises all that is good about the game of golf.'
By Gary Sheppard.  Gary is one of PerryGolf's Golf Travel Specialists.