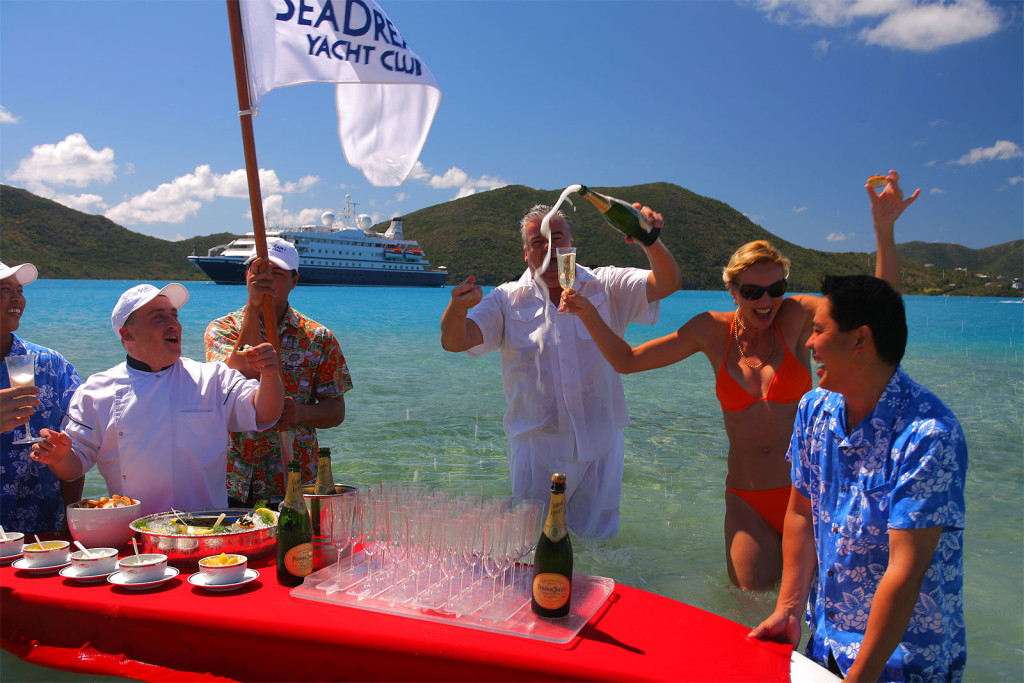 Combining golf, yachting and the Caribbean in January or February is the perfect antidote to the winter blues. But what makes an all-inclusive 7 night PerryGolf Cruise with 3 rounds of golf…even better?
One of the week's many highlights is sure to be the fabled SeaDream Champagne and Caviar Splash™. SeaDream's Signature Champagne & Caviar Splash™ will put an exclamation point on your voyage. A shoreside celebration of the yachting lifestyle, guests and crew reflect on good times shared and to meeting again with flowing champagne toasts. A gourmet barbecue served on a white sandy beach will follow; and, and at the sound of the yacht's horn…play the music, let the bubbles flow and enjoy a bite of caviar.

Enjoy the YouTube VIDEO below to learn more about this casual perfection.
Back on board SeaDream you will be utterly spoiled. Carrying just over 100 guests, and with an award winning crew of 95, the yachts of SeaDream are consistently ranked as the finest in the small ship category by all the definitive cruise guides. Quality of service and outstanding dining are SeaDream hallmarks. The experience is entirely all-inclusive, with dining, boutique wines, open bar, and gratuities covered. Another highlight of SeaDream is a fabulous spa, fully accredited by the Thai Spa Association.
This really is the perfect antidote to the winter blues. We hope you will join us!
Click below to learn more about Yachting with SeaDream on a PerryGolf Cruise;
Click below to browse our golf cruising portfolio;
[Tweet "The @SeaDreamYC Champagne & Caviar Splash™ | #CaribbeanGolfCruise #PerryGolfCruise"]



Did you enjoy this article? Click one of the links below to learn more about about other spectacular experiences guests enjoy on PerryGolf's Caribbean Golf Cruises by Mega-Yacht.

PerryGolf's Caribbean Golf Cruise at Four Seasons Resort Nevis

PerryGolf's Caribbean Golf Cruise at Royal St. Kitts Golf Club
About the Author: Harrison Gould is the Social Media Marketing Manager of PerryGolf, the leading provider of international golf vacations. You can find him on Google+, LinkedIn, Twitter, Instagram, and Pinterest.