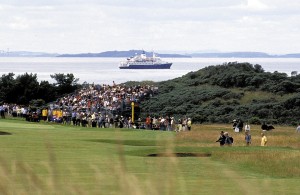 The Open Championship is unique amongst the majors for a variety of reasons and attendance at one "Open" as she is correctly called should be on every golfers bucket list. Some tips for making the dream trip a reality;
1. You can always walk up on the day and buy a ticket to watch play that day. It is truly "open" to the public.
2. If you want to stay nearby, expect the hotel to require a 5 – 7 night minimum stay, as you move further from the venue, demand lessens and shorter stays are more likely.
3. Invariably there is an excellent public transportation system with dedicated trains to the event from major cities…a fine option compared to traffic and parking
4. The Tented Village is part of the Open lore, it encompasses retail, promotional displays and hospitality areas…see it, experience it and enjoy it.
5. Links courses by nature are flat, the R & A who conduct the Open provide many bleacher stands throughout the course. It is a good idea to find a location you like and position yourself there.
6. Given the changeable weather that the British Isles is known for, be sure to have with you layers of clothes and even rain gear…just in case. Nothing worse than sitting in a bleacher as a rain shower approaches with a handkerchief for protection!
7.  If you try to combine a golf trip with attendance at the Open, you probably will find it easier to play your golf in another region of the British Isles as most of the notable courses around the Open venue will be under great demand for various events, corporate outings, etc.
8. Due to the fact golf is so woven into the British fabric of life, you will be surprised at how knowledgeable the crowd will be…good shots are acknowledged and bad shots are winced at…for most of the spectators play the game and experienced the same challenges. Rarely will the "you da man" laud be shouted, unless of course by a patron possibly leaving the famed Bollinger tent!
Of course, our 2013 British Open Cruise is the perfect solution to play golf in Ireland, Scotland AND attending the Open from your floating hotel room only 30 minutes or so from the course!
I hope that you make this special trip at least once.
About the Author: Gordon Dalgleish is the Co-Founding Director of PerryGolf, the leading provider of international golf vacations. You can find him on Google+