Vietnam and Cambodia Escorted 2014
Golf, Temples, Tombs & the Secret of Cua Mang Tay
12-21 February 2014 | 9 Nights | 6 Rounds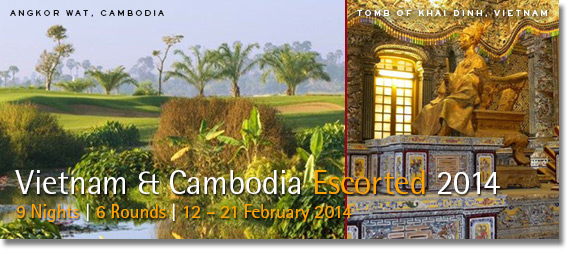 PerryGolf is thrilled to offer a fully escorted tour to one of the most culturally fascinating destinations on earth whose modernization over the past several decades has included exceptional golf. Our nine night visit to Vietnam and Cambodia begins in..
NEW UPDATE — 21 February 2014
Go To Beginning of Trip.

PerryGolf's Golf Tour through Asia concluded today in Siem Reap, Cambodia. During their three day stay in the city, the group enjoyed two great rounds of golf at Siem Reap Booyoung Golf Club, and the beautiful Angkor Wat Resort, in addition to a fascinating visit to the iconic temples of Angkor Wat and Ta Promh. Enjoy a few more images of the group's time in Cambodia.


Be sure to check out the entire photo album from the trip on
Facebook
or
Google+
!
NEW UPDATE — 18 February 2014


PerryGolf's Asian Golf Trip has now arrived in Siem Reap, Cambodia, having spent the last three days at the fabulous Fusion Maia Spa & Resort in Danang, Vietnam. There the group played the outstanding golf courses of Laguna Lang, The Mongomerie, and Danang Golf Club – all three of which combined to be awarded the prestigious IAGTO 2013 Golf Destination of the Year for Asia and Australasia.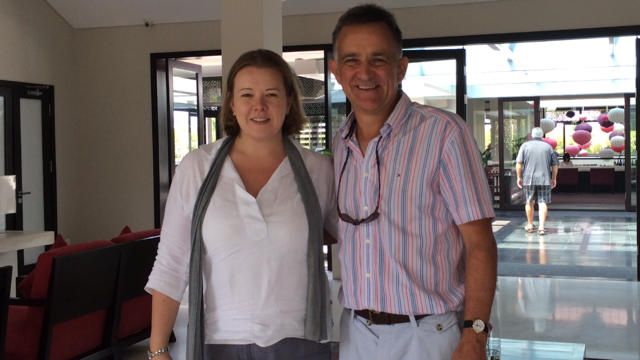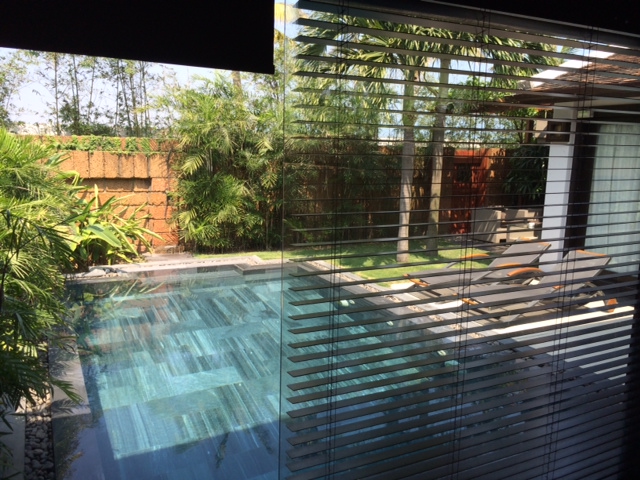 Not too shabby a location at Fusion Maia Spa & Resort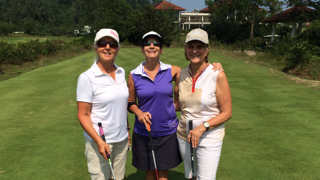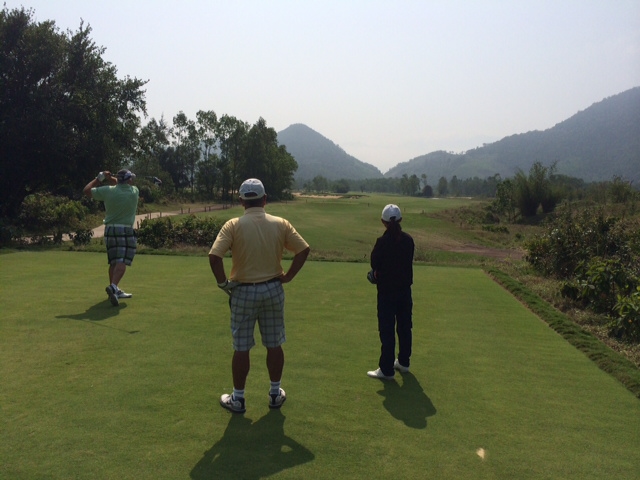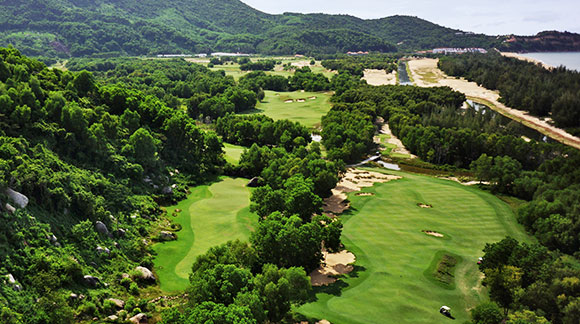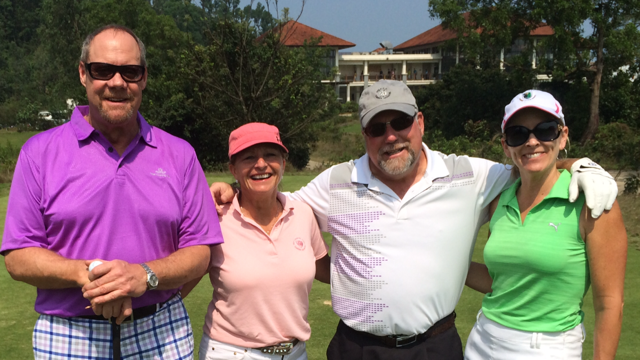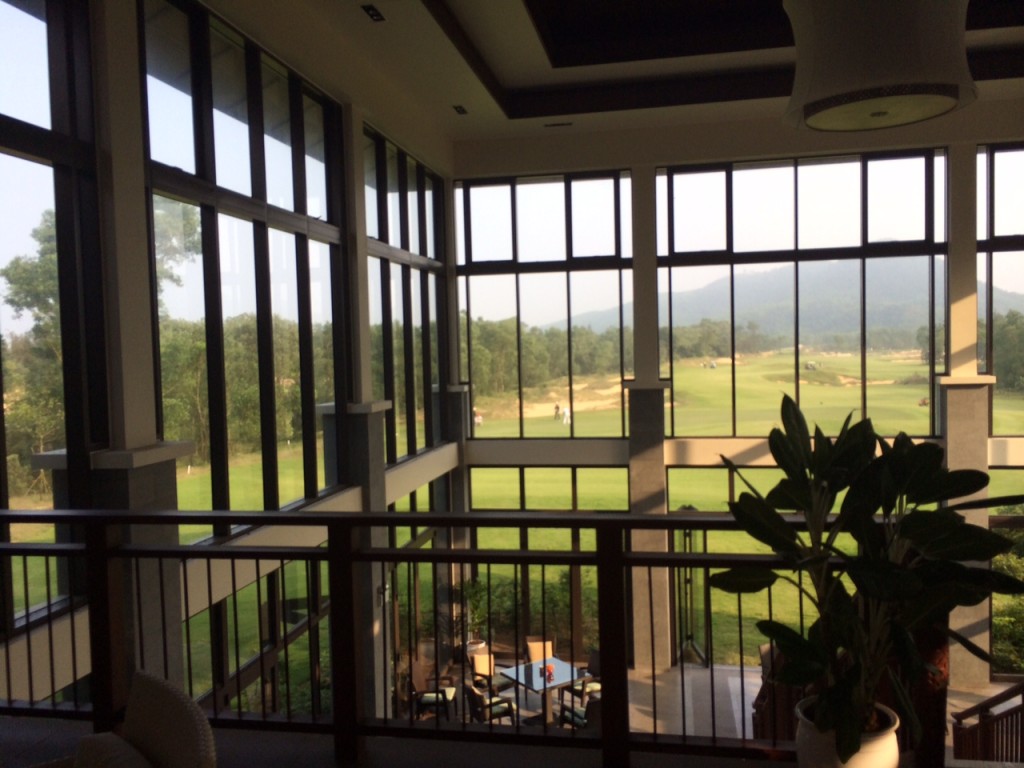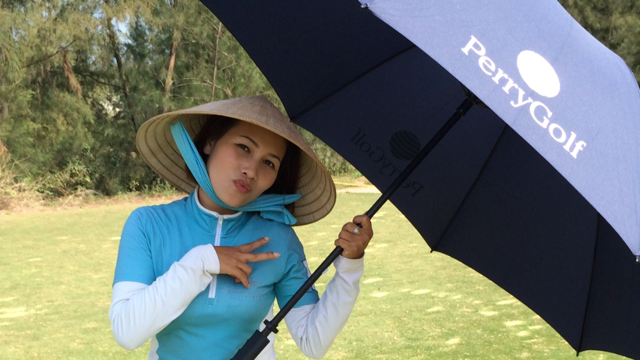 Images below taken from the Montgomerie Links, Vietnam.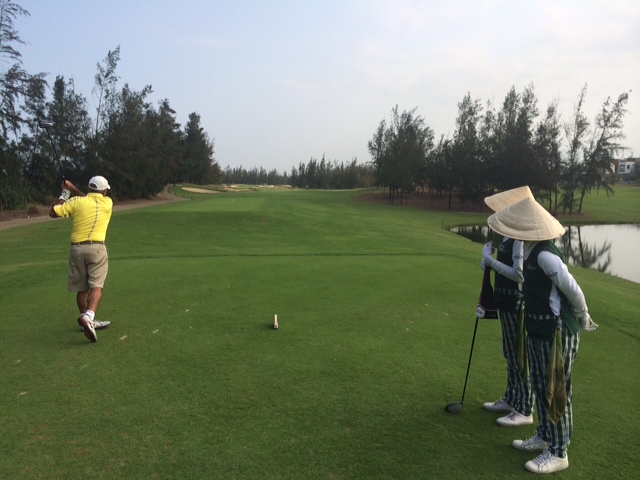 Images below taken from Danang Golf Club, Vietnam.
In addition to fine golf, there was a great visit to the charming
UNESCO Heritage town of Hoi An,…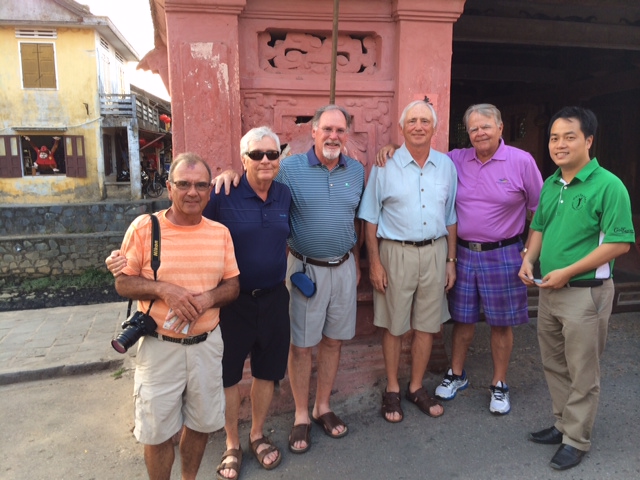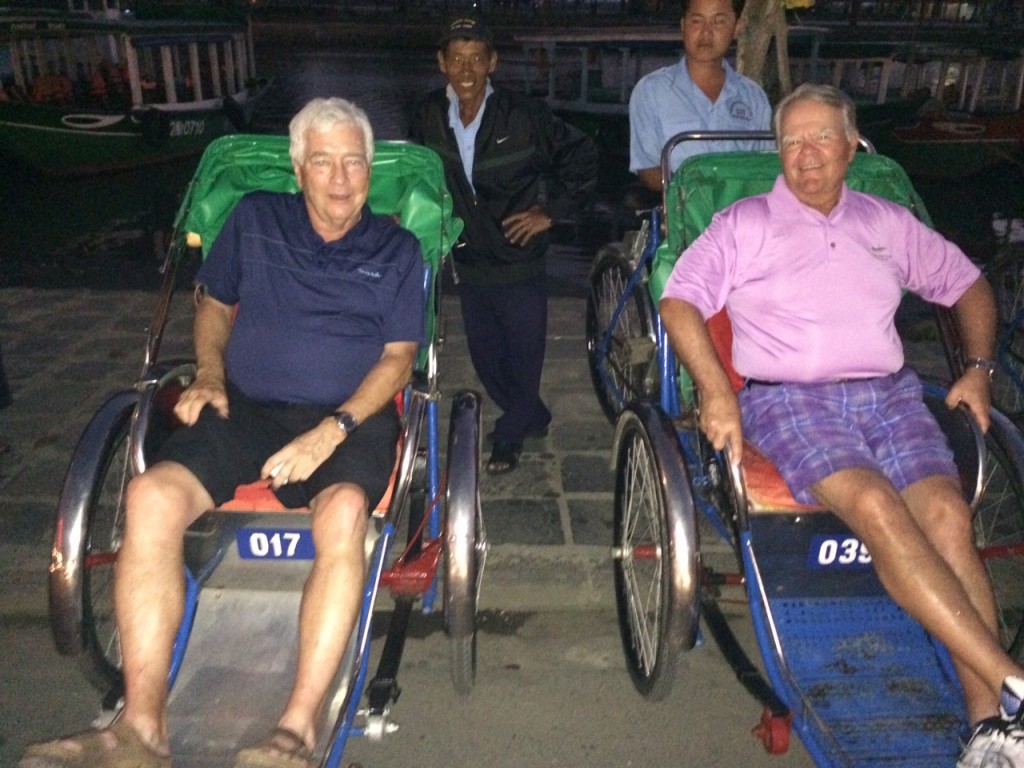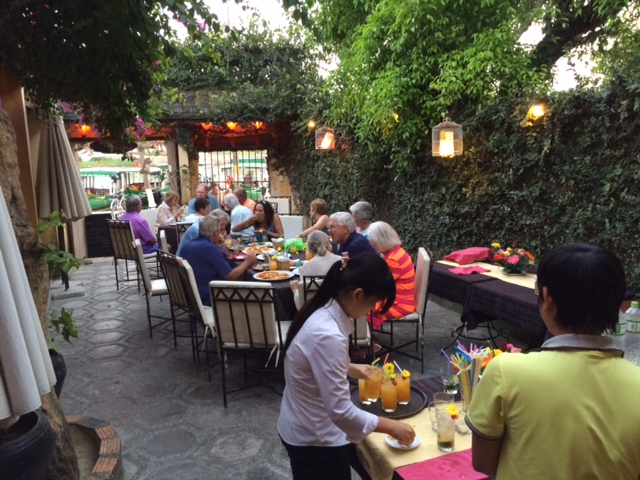 …plus many visits to the stunning Spa at Fusion Maia, where all treatments are complimentary.

Talk about a tough place to leave!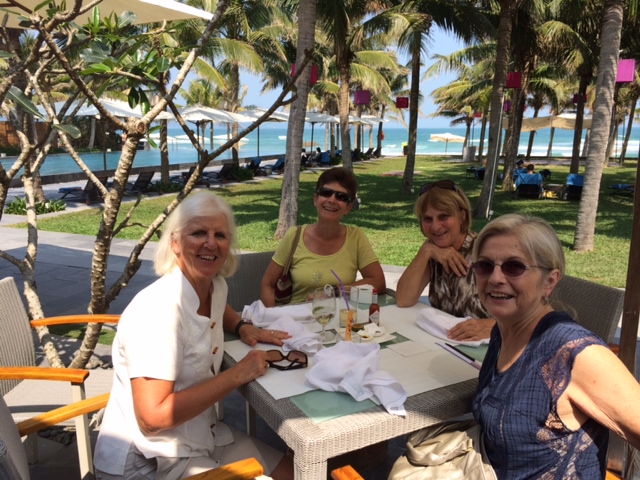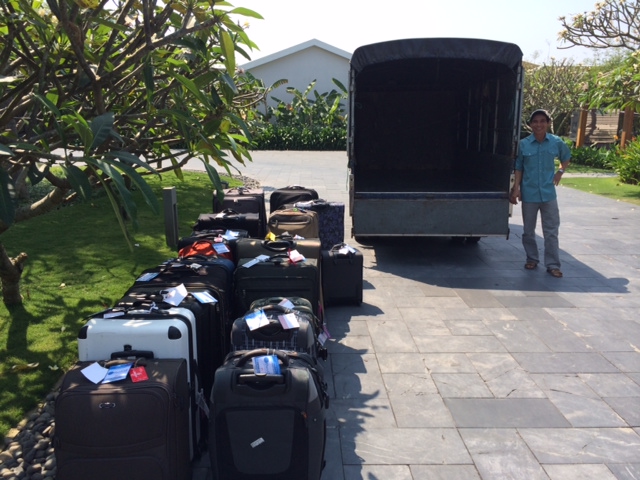 Tonight the group will stay at
Sokha Angkor Hotel
, Siem Reap. Golfers will look forward to playing tomorrow at
Phokeethra Country Club
, past host of the Cambodian Open and regular stop on the
Asian Tour
. A combination of Paspalum grasses are used on both fairways and greens, which gives the golf course its deep green color and ensures a high standard of course conditions all year round.
Non-golfers won't be standing by waiting for the round to finish! They will visit
Lake Tonle Sap
and explore by boat the area's unique floating villages and fishing communities. Floating villages dot the semi-submerged forest that lines the rim of the lake – an excellent glimpse of rural Cambodia and a rich ecosystem supporting hundreds of fishing communities and abundant birdlife.
The afternoon is to be free at own leisure to relax by the pool or catch-up on some photo opportunities around town.
NEW UPDATE — 15 February 2014
Enjoy more pictures below from Colin's latest update on our Asian Golf Adventure through Thailand, Vietnam, & Cambodia: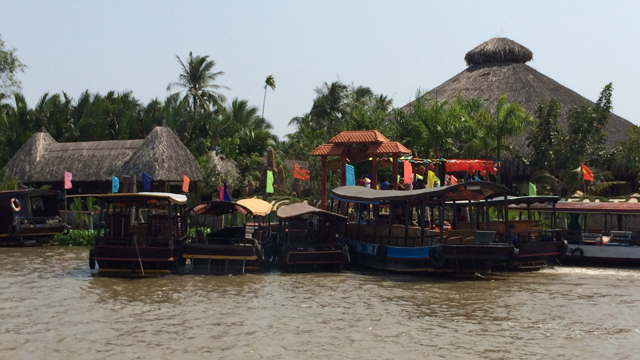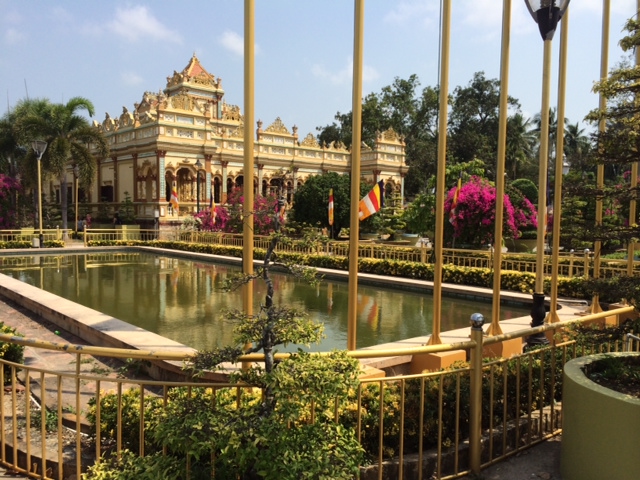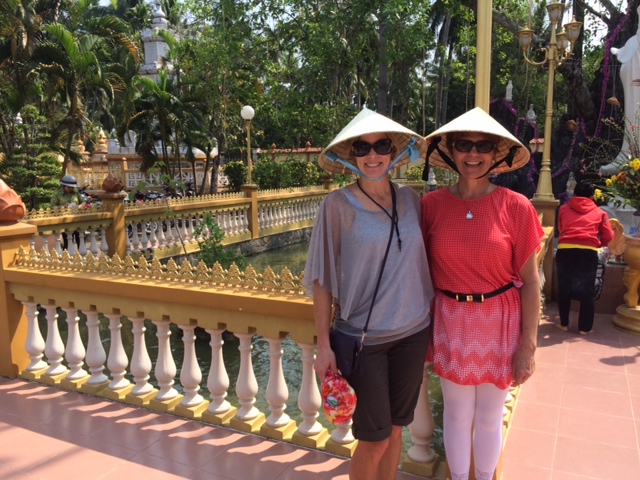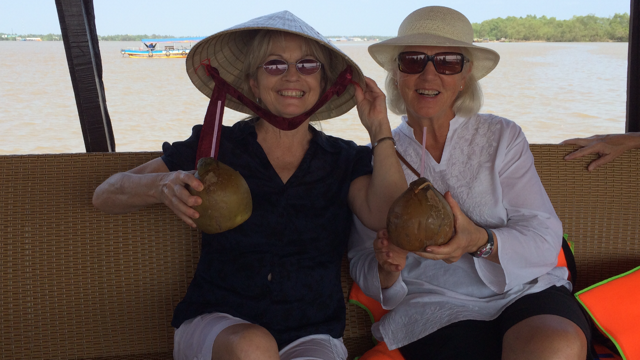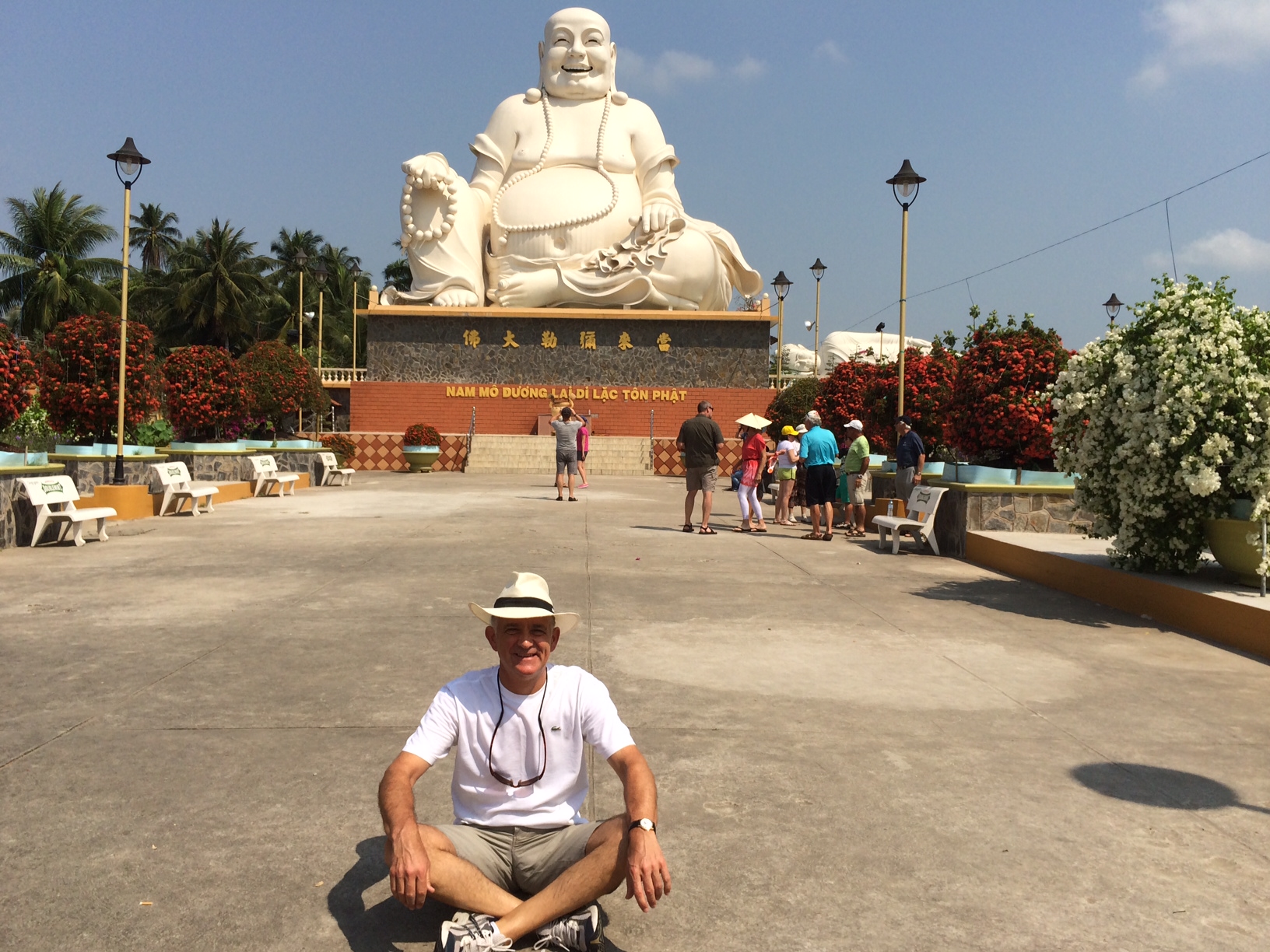 NEW UPDATE — 13 February 2014
PerryGolf's exotic Asian golf trip through Thailand, Vietnam, and Cambodia has now reached Saigon, capital of South Vietnam. Prior to departing Bangkok the group enjoyed a final day in Thailand visiting the spectacular Grand Palace, Emerald Buddha and Royal residences.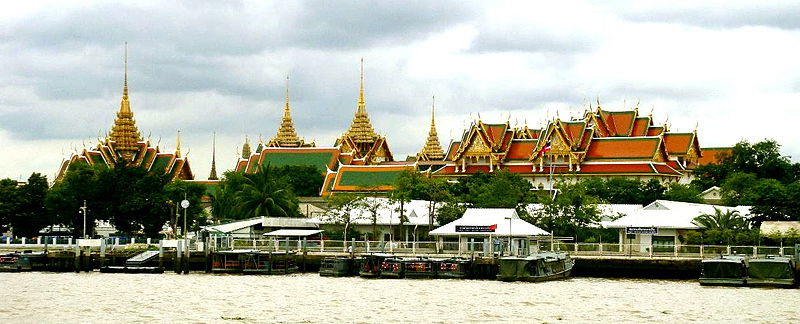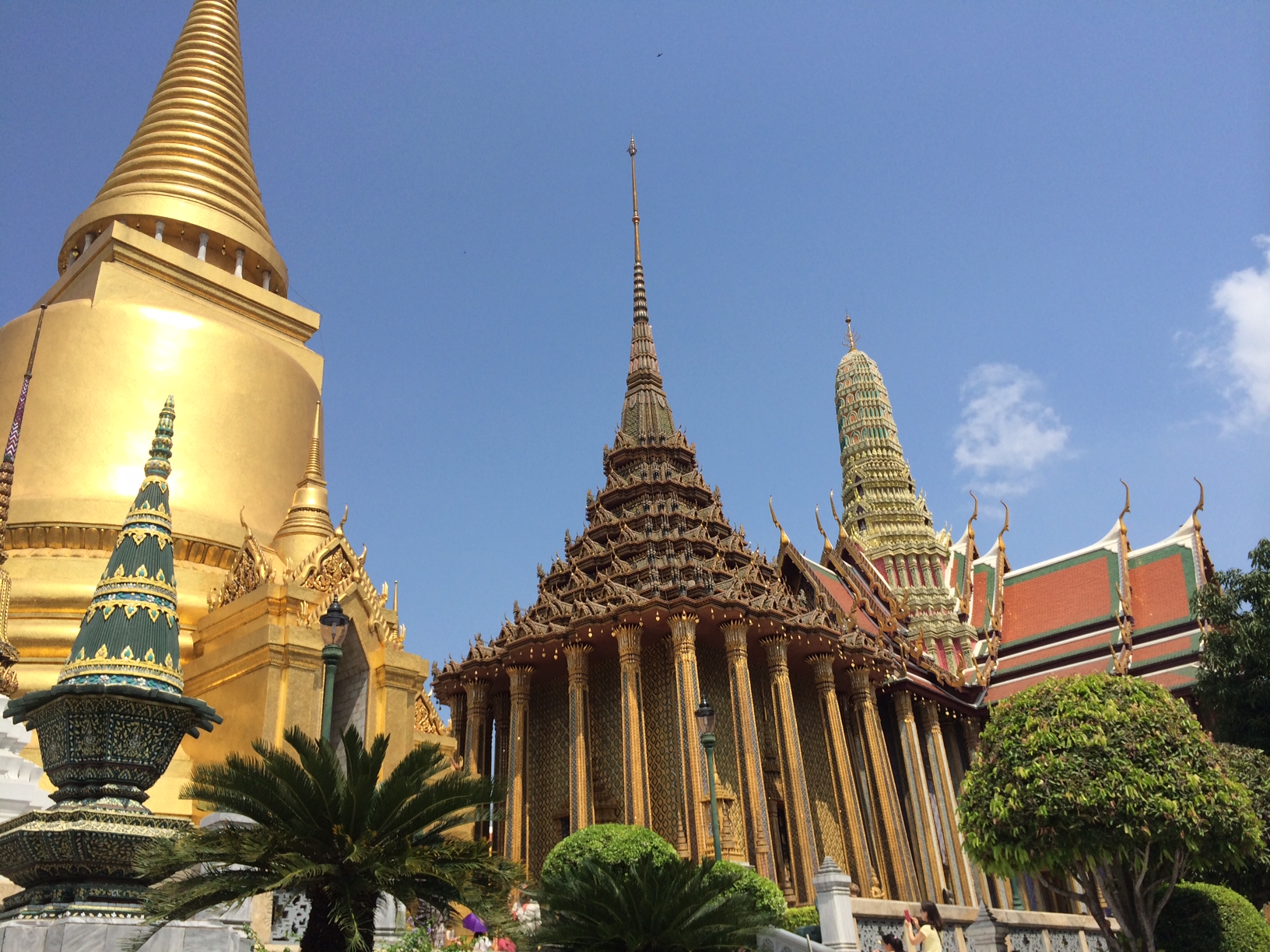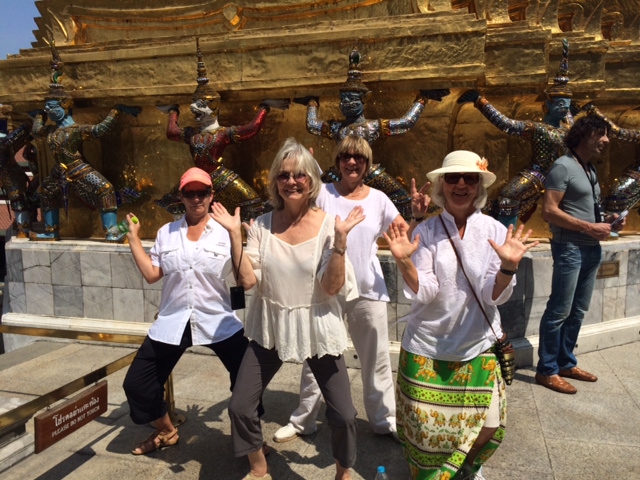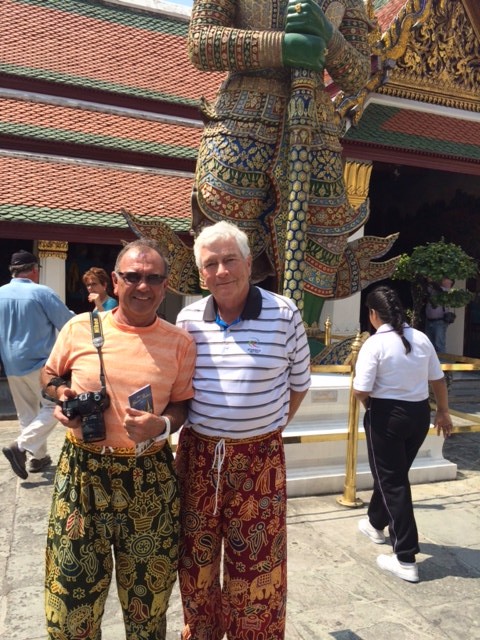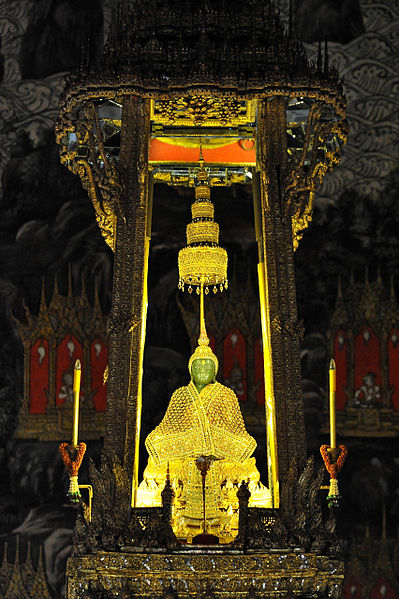 Today's golf in Saigon was at the beautiful Long Thanh Golf Club, with sightseers making a city tour and visiting the Cu Chi tunnels.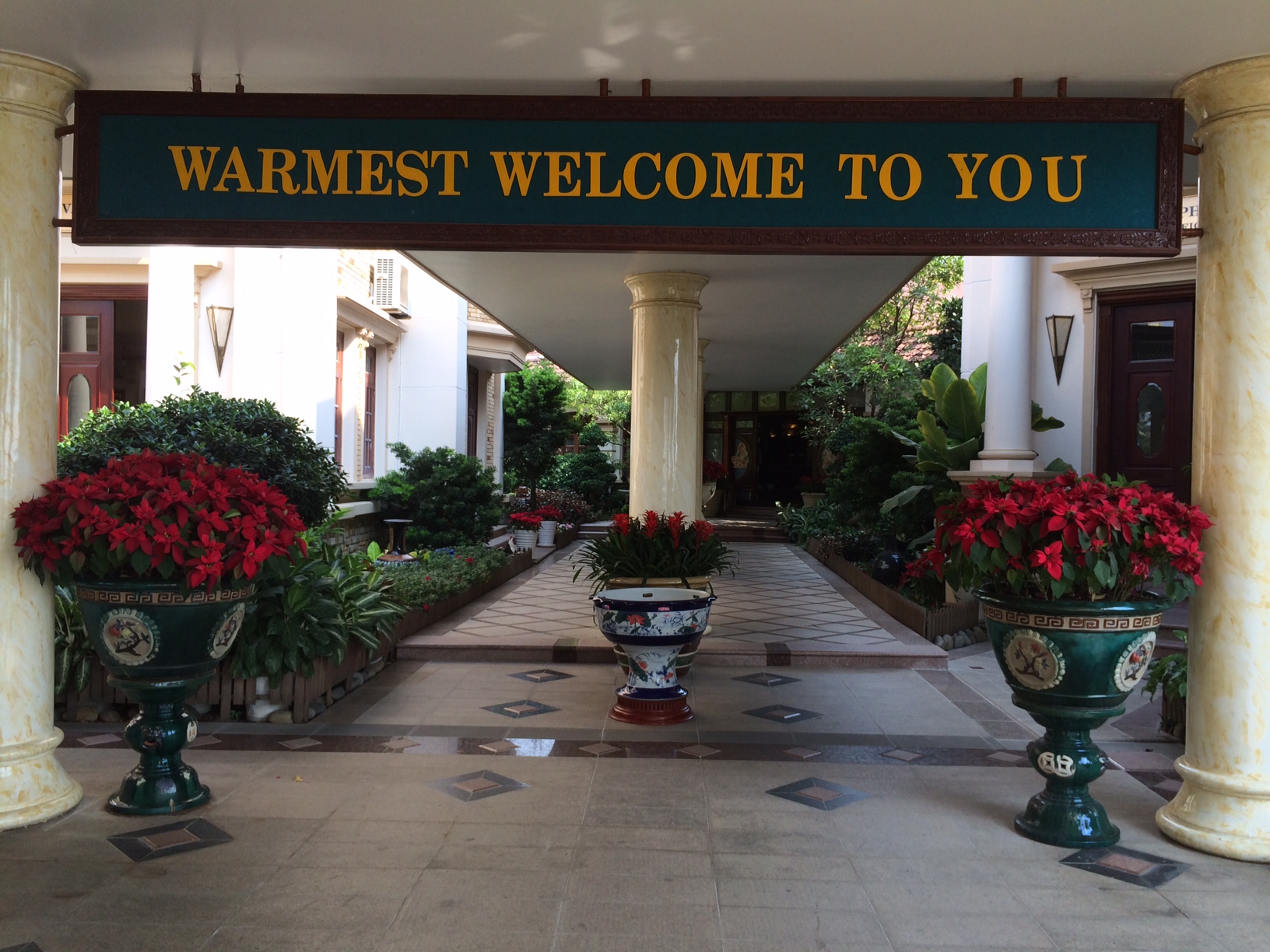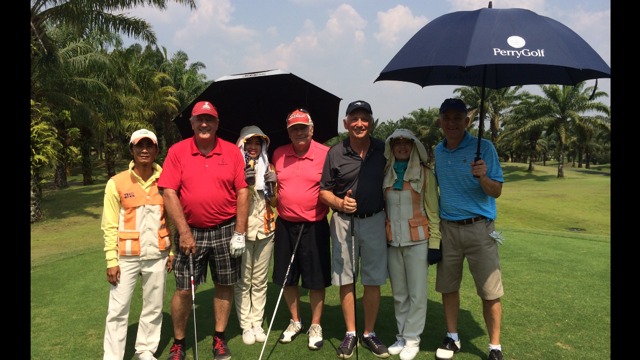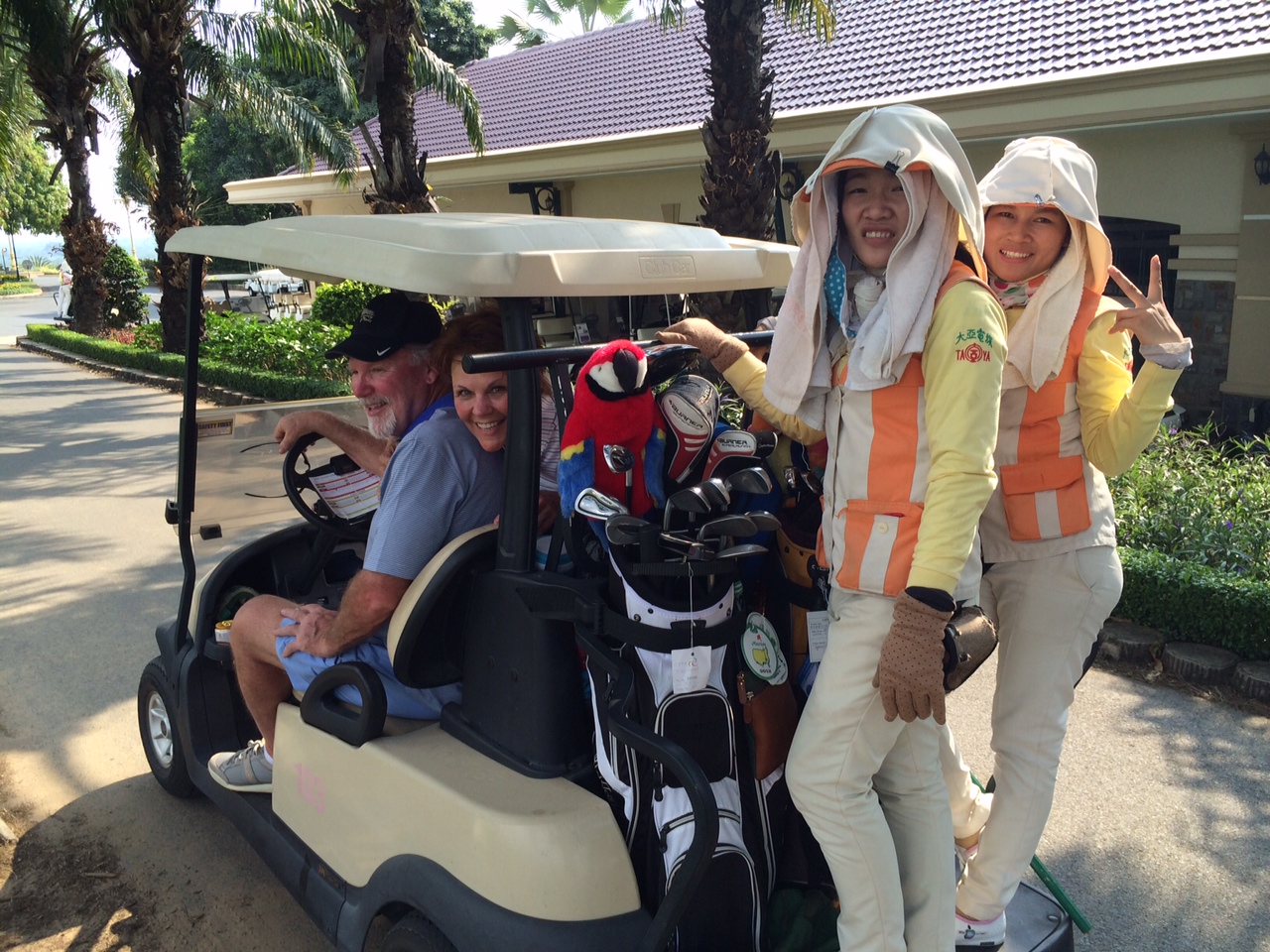 This evening a delightful group dinner at Ly Club.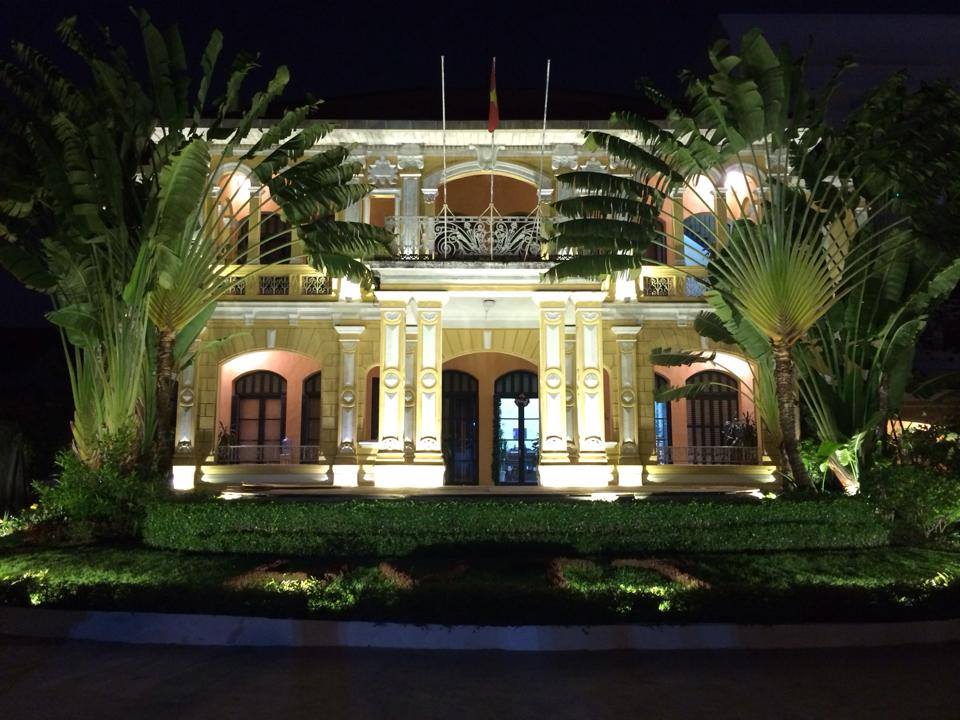 NEW UPDATE — 11 February 2014
"Goodbye Thailand, Hello Vietnam!"

PerryGolf's guests on our golf tour through Asia – Thailand, Vietnam, and Cambodia – have enjoyed three great days in Bangkok, capital of Thailand. Day 1 included a private river cruise on the Chao Phraya River to visit the Temple of Dawn and the Temple of the reclining Buddha, with return by a fleet of fast longtail boats through the canal network of Bangkok.



The group has enjoyed golf at Riverdale Golf Club and Thai Country Club, two of the finest golf venues of the Thai capital. The quality, conditioning, and service levels of these venues are exceptional. The Asian caddie experience is always a big part of the day. Here are a few photographs from the tour to date.


NEW UPDATE — 9 February 2014
"Golf Tour Commencement"

PerryGolf's Thailand, Vietnam & Cambodia escorted tour commences today in the Thai capital of Bangkok, with our guests arriving by just some of the many available air routes. First stop is the Anantara Riverside Resort, a beautifully relaxed location on the banks of the Chao Phraya River.

Our tour will take in four destinations over twelve days, with golf on eight of the region's finest courses, plus a number of great sightseeing opportunities. This is a fascinating part of the world. It's rich and sometimes dark history combines with an outstanding modern hospitality experience, it's standards amongst the finest in the world. What a great opportunity to 'Play the Game. See the World.'

NEW UPDATE — 8 February 2014
"United Nations Gathering!"

Chiang Mai in the highlands of Northern Thailand, just a one hour flight north of Bangkok, enjoys stunning scenery, an excellent climate and a wonderfully relaxed pace of life. On an impromptu game at the beautiful Chiang Mai Highlands Golf Club, Colin Dalgleish made up a fourball with a Scot residing in Australia, a Singaporian residing in the UK Channel Islands, and a Thai residing in Bangkok …. what other sport might that happen in? Play the Game. See the World. .. never truer!


NEW UPDATE — 7 February 2014
"Hua Hin"

In advance of hosting our upcoming trip to Thailand, Vietnam & Cambodia, PerryGolf's Colin Dalgleish made an inspection trip to the Thai resort city of Hua Hin, just a three hour drive southeast of Bangkok on the Gulf of Thailand.

Hua Hin has long been the favored resort of the Thai Royal Family, and in 2013 received the prestigious Golf Destination of the Year Award for Asia and Australasia at the International Golf Travel Market. It boasts a number of outstanding courses, most notably the world top 100 Black Mountain, but also including gems such as Banyan, Seapine Golf Course, and the charming Royal Hua Hin, dating back to 1926 and built by Scottish engineers who were working to create the railroad system at the time.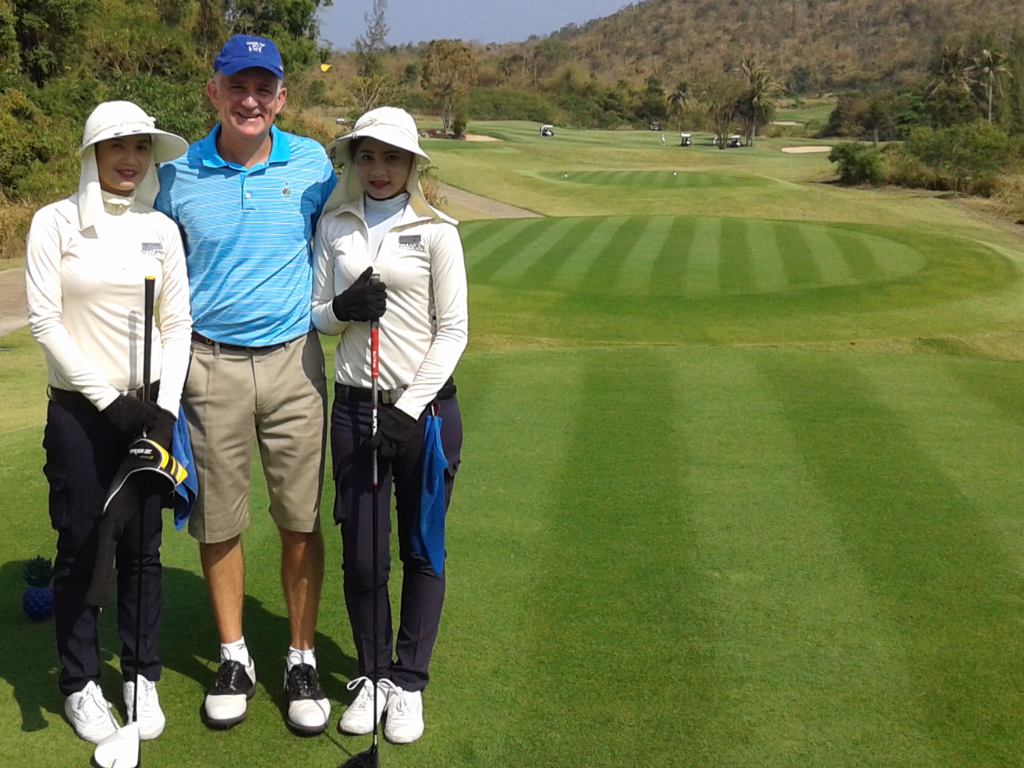 Golf, Temples, & Tombs: A Truly Exotic Vacation… http://t.co/ZWok0UuWnT @hdg2951 #Asian #GolfTrip #Adventure

— Gordon Dalgleish (@PerryGolf) February 6, 2014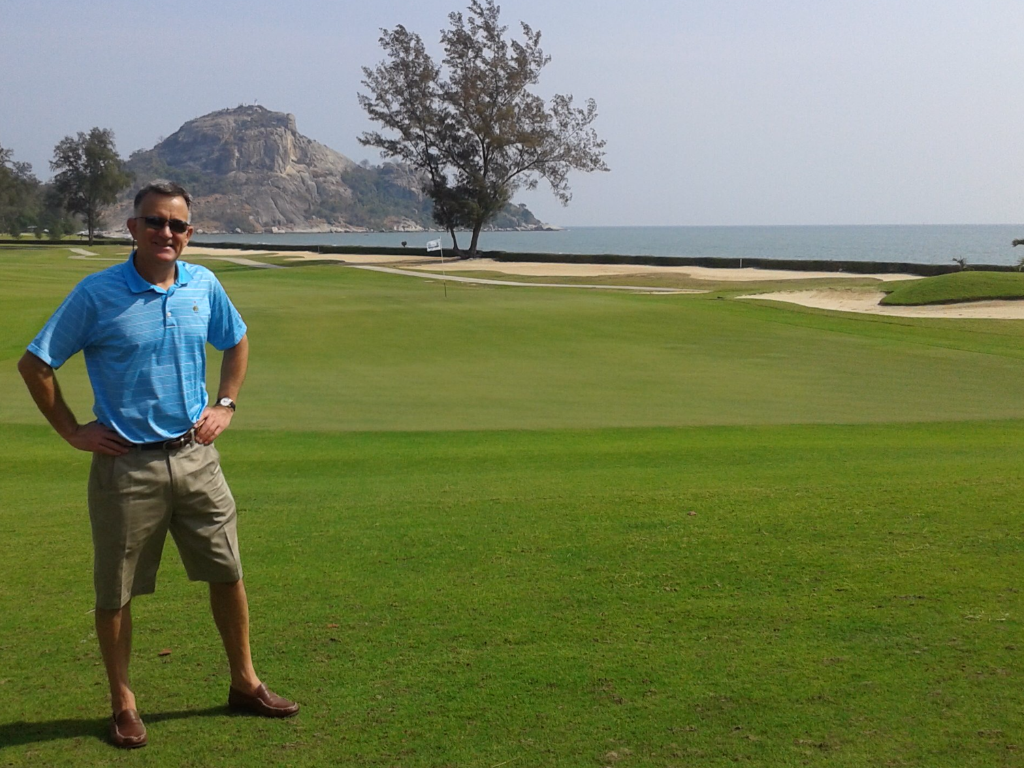 Next inspection stop CHIANG MAI in the northern highlands region of the country.
NEW UPDATE — 5 February 2014
Colin Dalgleish, Co-Founding Director of PerryGolf, is currently in Asia preparing for the upcoming PerryGolf Escorted Golf Vacation: Vietnam & Cambodia Escorted 2014, which will take place 12-21 February 2014.
Prior to this however, travelers had the option to add-on our Bangkok Pre Tour Extension which we believe to be the perfect start to your Asian adventure.
Over the next couple of weeks, I will be posting updates on behalf of Colin, from this unique adventure. Colin shall have his hands full as he entertains and navigates our clients not only from golf course to golf course, but also through the temples, tombs, and cities planned for this exotic adventure.
The Bangkok Pre Tour Extension begins on Saturday, February 9th in no place other than Thailand's capital – Bangkok. Often referred to as the City of Angels and Land of Smiles, Bangkok is one of the world's most vibrant cities with excellent golf courses, beautiful temples and palaces, plus great shopping and dining.
Last year, Colin ventured to Asia to begin the planning and arranging of the details for this exotic adventure through Thailand, Vietnam, and Cambodia. Have a look at the photos from his trip, as well as the two brief blog updates linked below which were written by his brother and Co-Founding Director of PerryGolf, Gordon Dalgleish. Other than that, be sure to subscribe to our blog or this post to ensure you don't miss any updates from this exciting adventure through temples, tombs and golfing – all of which plus much more shall undoubtedly make this the most exotic golf vacation of the year for PerryGolf!
About the Author: Harrison Gould is the Social Media Marketing Manager of PerryGolf, the leading provider of international golf vacations. You can find him on Google+