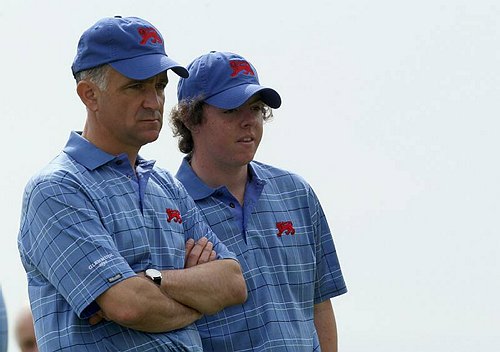 What a great event and wonderful to see a new era evolve in competitive golf with a friendly, attractive personality. My brother as Captain of the 2007 Great Britain & Ireland Walker Cup Team at Royal County Down Golf Club had the privelege of working with him and has consistently said that Rory was both mature for his years and a extremely pleasant young man…the camera does not always allow the "nice" to show through on television, but in this instance it did. Congratulations Rory! 
The Thursday pairings whereby the USGA grouped Spaniards and Italians together just seemed odd….the media did not seem to take issue with it but my sense is that it gave an slight advantage to players like Garcia who would have enjoyed 2 rounds with people they are comfortable with. 
Disappointing the way that the commentators decided early in the week to criticize the formula for the World Golf Rankings…that discussion would have more credibility when the US was better represented at the top of the rankings. The formula may well need to be redrawn, given the international scope of players and their event schedules but why pick now to discuss? 
An interesting statistic from the June 17 issue of Golfweek; "The British Amateur attracted only one player from USA in the world Top 100". If that fact is correct, it would seem given the recent history of golfing achievements that younger US college players need to take a more global view than even those of their slightly older peers! 
It is great to see this new excitement in golf, some tremendous rivalries shaping up that will be for years to come….next stop Royal St. George's.

About the Author: Gordon Dalgleish is the Co-Founding Director of PerryGolf, the leading provider of international golf vacations. You can find him on Google+