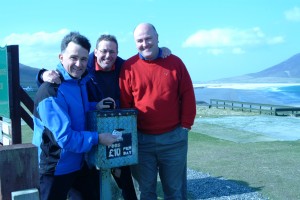 In the course of a golfing lifetime I have been extraordinarily privileged to have played at a great many of the world finest golf courses. All of these have been fantastic experiences. Not to detract from these in any way, quite often however the most memorable trips are not necessarily defined by the absolute quality of the golf courses.
For instance I can specifically remember a trip which four good friends made in April 2004. It involved us playing the five golf courses on the "Long Isle", the slightly misleading name given to the collection of outer Hebridean islands off the north west coast of Scotland which run from the isle of Lewis in the north to the isle of Barra in the south, separated by various bodies of water. Of the five golf courses, one is 18 holes, and four are 9 holes. Our trip involved four ferry journeys (two of which were between rounds), and three overnight stays at small B&B's. We completed the five courses in 53 hours, possibly a record, only as much as no one would have perhaps much bothered before-:) We saw a total of eleven other golfers during our time there, and the biggest planning aspect was not booking the starting times …clearly! … but rather working around the ferry times. Most of the 9 holers had "honesty boxes", some more advanced than others. Isle of Harris GC had an organized system of envelopes and receipts …. Isle of Barra GC on the other hand had a bird nesting in the box!. But it was a spectacular trip with friends. The courses were fun, if some a little more "rough" than most of us grow used to, but it did not and would not detract from our enjoyment in any way. Take a look at the site Golf Hebrides and indeed then google some of the courses for some great imagery. The newly "found" Old Course of Askernish stands out as the strongest layout.
I just love to plan a golf trip with friends. The more the challenge of the logistics the better! Enjoying a well thought out, well planned and well executed trip at enjoyable golf courses, combined with comfortable accommodations, good food and hospitality, and in good company, has to be one of the highlights of the game. Trains, planes, and automobiles … and golf … what a great combination!
The recent addition of some outstanding links courses in Scotland, got me thinking regarding the logistics of tracking many of them down in one trip. Most of our clients have time limitations, and of course love to play the "name" golf courses as we all do, but equally many are possibly even more drawn by the particular lure of links golf, and the challenge of stepping out of the "normal" zone, and the satisfaction that comes from being one of a more select group who have experienced something a little out of the ordinary. So …..
I've penciled together a potential schedule, from which many variations would be possible to suit particular preferences, which I think is exciting but convenient, and affords the opportunity to play a number of these new but diverse (both in geographic location and style) golf courses, plus some of the older classics and fun venues. The schedule makes good and economic use of several modes of transport, incorporates comfortable accommodations and gives variety in excellent dining, plenty of local malt whisky along the way, and always assures a warm welcome.
In the near future a link will be provided to a brief but compact schedule, but for the time being here are the details;
My starting point would be to ideally assemble a group of 8 friends. Gather in Troon on the Ayrshire Coast of Scotland. Charter the Kintyre Express, a highspeed and comfortable fully enclosed private boat service over to the island of Arran. Play the marvelous 12 hole Shiskine Golf Club, before continuing by Kintyre Express to Machrihanish. Spend two nights in a cottage at the Village at Machrihanish Dunes. Play Machrihanish (possibly also Dunavertythe same day) and the new David Mclay Kidd designed Machrihanish Dunes over the two days. After golf the second day make the one hour road transfer and two hour comfortable ferry crossing to the famous malt whisky isle of Islay. There stay at the Machrie Hotel for two nights, and enjoy a full day on the absolutely wonderful Machrie links, full of humps and bumps (and plenty blind shots). You will love it. I do -:) Then a private charter in a comfortable turbo pro from Islay up to the outer Hebridean island of South Uist to play what is undoubtedly the most remote course on the schedule, the "uncovered" Old Course at Askernish. A spectacular location, a warming story of an island community asset, and a golf course that all true lovers of the game should try and experience. Forget course conditioning. Get back in the plane and make the short onward flight to Inverness. Spend three nights here with a choice of accommodations in this small but vibrant city. Two days golf; one at Royal Dornoch, simply not to be missed. My suggestion is to make Castle Stuart, opened July 2009, your final round. It occupies a stunningly beautiful location with 360 degree views over water and mountain, the routing and layout are outstanding, the condition is excellent, the attention to detail by the management team second to none. It is certainly worthy of the star billing! … if you have time left it is well worth nipping down to St Andrews to play the new Castle Course .. or save that for the next trip?
I can assure you would certainly return from this trip with plenty tales to tell. Further, you would certainly be in little danger of being upstaged or even contradicted in the Grill Room at your home Club!
Naturally PerryGolf is best suited to bring this all together for you, ensuring all the preplanned arrangements are seamless, and providing a PerryGolf concierge to travel with you smoothing your journey as you go. If the trip has appeal to you please drop me a line at Colin.Dalgleish@PerryGolf.com and we would be delighted to take it from there!
PS: An entirely separate thought … you might also consider a private charter of the luxury 12-guest 189 foot mega yacht Harmony II to take you around some of these island gems.