The newly re-opened Loans Inn offers a retreat in the picturesque village of Loans (located on the outskirts of Troon). After many years of renovating the original building, proprietors Malcolm and Karen Simpson made the decision to close in October 2008 to permit the massive £1.8 million redevelopment to take place.
An authentic 18thCentury Scottish Coaching Inn, the hotel is based in the centre of Ayrshire literally minutes away from Royal Troon Golf Club and a mere 45-minute drive to Turnberry; a fantastic location for the keen golfer and valuable alternative where staying at Turnberry is not an option.
The hotel has maintained the original stone walls and impressive coal-burning fires while styling the building with modern Scottish décor. The new design compliments the traditional country pub whilst showcasing the impressive new restaurant, outdoor terrace/beer garden and 20 uniquely-designed rooms. Each bedroom has been named after an Ayrshire-based golf course (including Prestwick, Turnberry and Dundonald) while the main master-suite was named after Stuart Cink; winner of the 2009 Open Championship at The Ailsa Course at Turnberry.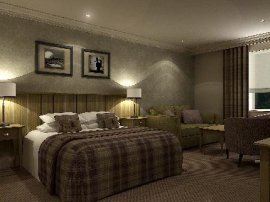 In addition to the features we'd all expect from a newly renovated 4-star hotel, it also offers a state-of-the-art media centre which allows you to plug in your digital camera and view the day's golfing shots – or your photos of the Scottish landscape – on your TV. Also, while enjoying a power shower, your MP3 player can be connected into a socket in the bathroom allowing you to enjoy your own musical preferences while winding down after a day on the course.
A terrific accommodation whatever your budget!