One of London's most famous hotels is on schedule for its re-opening in October this year.  The Savoy Hotel on The Strand closed at the end of 2007 and has been undergoing a very ambitious restoration to offer the very finest up-to-date facilities without destroying the much loved atmosphere of this grand hotel.  The hotel has featured in many movies, and no trip to London for the rich and famous was complete without afternoon tea at The Savoy.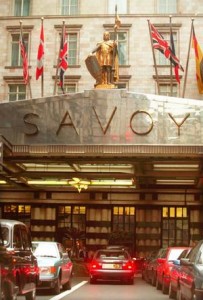 A mixture of Edwardian and Art Deco architecture and décor has always been the hallmark of this magnificent building and a huge team of architects and designers have worked enthusiastically to bring it into the 21st century while keeping the grandiose spirit of a more opulent era.  They have maintained the historical River Restaurant, and the famous 'afternoon tea' can be taken in the new Winter Garden beneath an elaborate glass dome.  There is also the added attraction of a new Beaufort Bar for afternoon tea, extending into cocktails and cabaret – a hallmark of Edwardian society.  There is even a discreet shop selling the famous tea plus fresh pastries and, of course, they have kept The Savoy Grill!
After all this food, patrons will be delighted to discover the new rooftop swimming pool and fitness gallery!
By Yvonne Shaw.  Yvonne has been with PerryGolf for over 10 years and is a member of our admin team.