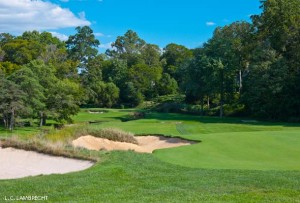 Co-founder and President of PerryGolf – Gordon Dalgleish – was asked to write the piece "Which is Better? | Merion or Pine Valley" for the Summer 2013 edition of LINKS Magazine.
An insightful and timely article as The 113th U.S. Open Championship at Merion Golf Club is just around the corner, here's an inside glance into the article:
"Its incomparable championship history and taut test of shotmaking give this year's U.S. Open site a decided edge" – Gordon Dalgleish
It takes either a brave or remarkably naive member to think he can mount a successful defense of his golf club in a faceoff with the number-one course in the world. Pine Valley has a storied and, in many respects, mythical history.
But speaking of history, my Merion has hosted four U.S. Open Championships, six U.S. Amateurs, four U.S. Women's Amateurs, one World Amateur, a Walker Cup, and numerous other significant events. It was the fitting venue for Bobby Jones to begin his illustrious career—in the 1916 U.S. Amateur (as a 14 year old!)—and to conclude it with the completion of the Grand Slam (in the 1930 Amateur, on the 11th hole). And who could forget Ben Hogan's heroic return to competitive golf when the iconic photo of his 1-iron approach on the 72nd hole of the 1950 U.S. Open hangs in clubhouses around the world?
To finish reading the full article, visit LINKS Magazine's website here.

About the Author: Harrison Gould is the Social Media Marketing Manager of PerryGolf, the leading provider of international golf vacations. You can find him on Google+