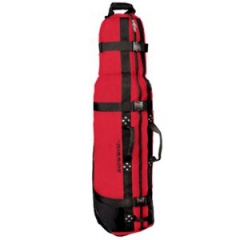 Golf travel bag covers have evolved a long way from some of the very basic plastic covers I can recall. These golf travel covers were no more than flimsy plastic with two holes for the strap of your bag to come through to aid carriage through the airport. The offered no protection for your golf equipment beyond dirt or rain drops!
Various options are now available and virtually all come with wheels which is a must for your golf bag cover.
The other principal decision when purchasing a cover is what level of protection you wish to provide your golf clubs. At one extreme are the hard sided covers which come in various sizes and provide the very best protection available. The downside is that they are cumbersome & bulky. Due to their size and inflexibility they consume a significant amount of space, particularly in a rental car. Indeed, I would go as far as to say that unless you have absolutely no space restrictions on your luggage as you travel, hard sided golf bag covers are not a good option.
The compromise between sturdy protection and flexibility for space saving I have found best are the likes of Club Glove. All of their models come with wheels, a hard sided bottom and base with the top potion constructed from extremely tough fabric. When the golf clubs are out of the cover they fold down into the size of the base and will fit into rental cars and the like.
Doubtless there are other fine examples of golf bag covers but I would use Club Glove as the benchmark for making a purchase decision. After 30+ years of traveling with golf clubs around the world, I can only recall one incident where one club was damaged, and for the vast majority of these trips I have used a Club Glove product and never used a hard sided case.

About the Author: Gordon Dalgleish is the Co-Founding Director of PerryGolf, the leading provider of international golf vacations. You can find him on Google+