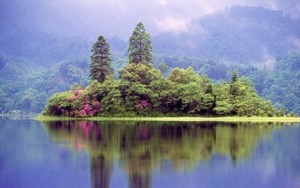 As you drive (or are driven) around Scotland on your golf trip, you will no doubt wonder about the origins of some of the place names which keep cropping up.  Many are based on the Celtic words for colours, such as glas – green, as in Glasgow (green hollow).  Another commonly used colour is dubh – black.  Then there are the geological formations, such as drummond – ridge, strath – broad valley (Strath-clyde – valley of the Clyde), firth – outlet to the sea and ben (mountain), also inver – mouth of (Inver-ness).  A dun is a fort, a loaning is a lane or small street, and a bal is a small town or village.  Most people will know a lake is a loch, a pile of stones is a cairn, and a narrow valley is a glen.
Here are some of the other names you might come across.  Dornoch – pebbly place.  Gullane – small loch.  Edinburgh – fort on a hill.  Turnberry – tower.  Aberdeen – mouth of the Dee.  Carnoustie – crows nest.
By Yvonne Shaw.  Yvonne has been with PerryGolf for over 10 years and is a member of our admin team.