Another tale of great winter golf in Scotland!  I must be doing something right. In the second week of February on a glorious day with a blue sky and a shimmering ocean, I recently played 36 holes of golf at the recently opened and strongly acclaimed Machrihanish Dunes, and also the much loved Dunaverty.  My fourball included Richard Simmons, Editor of UK publication Golf International, plus my good friends Ronan Rafferty, former Ryder Cup player, and Alan White, Chairman of the Scottish PGA.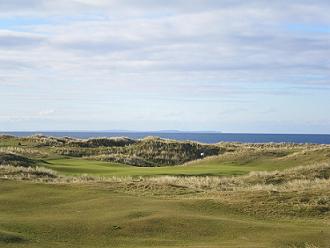 Having last visited Machrihanish Dunes early in its construction, I went for my first game with a sense of anticipation.  Well I can tell you I was certainly not disappointed.  It occupies a marvelous piece of land with spectacular views right on the edge of Machrihanish Bay; its layout twisting and turning through the gentle dunes to provide a thorough test and outstanding experience.  There are a number of blind shots (which is all part of the game), and it is certainly a tough golf course to play on the first circuit, but if played from the appropriate set of tees it is an extremely playable golf course by all standards.  It might not have the "smoothness" of many new courses. So what.  They will continue to refine and fine tune in all areas, and it will only get better.  Pure and simple, it gets my vote, and I encourage all true lovers of the game to make a visit.  You want unspoiled links golf the way it used to be?…then this is the real deal.
Another bonus for me was a game at Dunaverty, located just 20 minutes south of Machrihanish.  It enjoys a wonderful location right on the south eastern tip of the Kintyre Peninsula, with different but equally fabulous views as experienced from Machrihanish Dunes.  At less than 5,000 yards and a par of 66, it is the perfect second round!  It's par three 7th hole claims the only bunker on the golf course, and accordingly is mischievously called "St Andrews" -:)
The extremely comfortable Ugadale Cottages now available in the village of Machrihanish provide the perfect accommodations for golfing groups with excellent casual dining available in the Old Clubhouse.  You can now follow this exciting addition to the Scottish golf scene on their facebook page.
If you want to experience great links golf, get over there!