We decided to stop off in London for a few days – so much to see and do! Fortunately the weather was perfect for sightseeing and we were quite happy to explore on foot. Our hotel was not far from the River Thames and we walked to the Millennium Bridge, taking in St. Pauls Cathedral on the way, and then along the Embankment to the London Eye. This is a must for everyone on a London trip and includes a short 4D film – the fourth dimension being atmospherics as you 'travel' through London.
After the Eye, we continued our walk and went over Westminster Bridge to the Houses of Parliament. London is really well sign-posted for tourists anyway, but every time we opened up our tourist map, someone would ask if we needed a hand! These were ordinary people going by and they were so helpful. We continued our walk past Westminster Abbey, found Downing Street (we could only see No 10 from the security barrier), and went onto the Horse Guard's Parade to watch the changing of the guard. The two regiments that guard the palaces are the Household Cavalry (in red tunics) and the Blues & Royals (in blue). The horses were magnificently turned out and so patient with everyone wanting their pictures taken next to a horse. The troopers looked so young but maybe that was just me!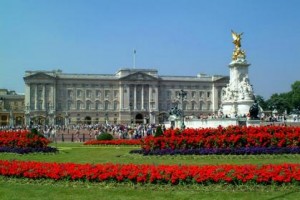 We continued our walk through St. James Park and up to Buckingham Palace(so many people and so many nationalities, but all just enjoying being there) and then on up Constitution Hill to Hyde Park, Kensington Gardens, the Princess Diana Memorial garden and the Serpentine. London is full of statues and memorials and you could spend a day just exploring these. We were getting pretty hungry by now and found a pavement café for an excellent lunch and then heard someone say that downstairs was Prince Harry's favourite nightclub. Setting off again, we retraced our steps through the park and down The Mall to Trafalgar Square to see Nelson's Column and the lions. The National Art Gallery (located on one side of the square) is a very impressive building, but we didn't have time to visit it on this occasion. Must go back!
We wanted to see a show while we were there and headed to Leicester Square and the returned ticket booths – discovering Covent Garden on our way. This was once the original fruit and flower market for London but is now two storeys of small trendy shops, stalls selling all sorts of jewellery, handbags, scarves, etc, and courtyard areas where 'living statues', musicians, singers and entertainers amuse the shoppers. One tiny teashop specialises in very large iced cupcakes in every conceivable flavour and with amazing decorations; we had to try them…and with a (very English) pot of tea!
Theatre tickets purchased, we headed back to the hotel for a rest before our evening ahead and to plan how we could fit in the Tower of London, Carnaby Street, Soho and China Town, not to mention shopping in Oxford Street and Harrods!
By Yvonne Shaw. Yvonne Shaw has worked for PerryGolf for over 9 years and is a member of our Administration Team.