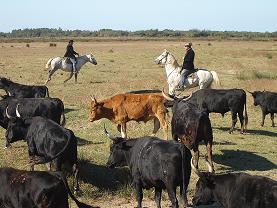 Having never been to the south of France, I was delighted that I was able to travel on our Provence River Cruise program onboard the 18-passenger luxury barge Le Phenicien.  It is certainly THE way to travel; the food is outstanding and the service is second to none…a real home from home.
One of the highlights on the program was a trip to a local manade; a typical ranch, where the gardians à cheval (the local authentic cowboys) showed us how they tend the herds of bulls on their white horses.  The ranch is located in Camargue, a short distance from when Le Phenicien was docked.  On arrival we were greeted by the family who owned the range and the tour began with a display of bull herding out in the open – the weather was perfect and the display was not disappointing.  On returning to the ranch, it was of great interest to learn of the history of the horses, bulls and the ranch.  
Tasty snacks and excellent wine (amongst other delights) were supplied during the tour.  It was fascinating to discover that the family spend every day in the traditional gardians à cheval clothing – an excellent part of the program – and the family could not have been more welcoming to their visitors.  It was certainly a memorable and special experience.
By Denise McKee.  Denise has been with PerryGolf for over 10 years and is one of our team members responsible for the South Pacific programs.