As the lucky owner of a black Labrador myself, I couldn't wait to visit the Gundog School at the hotel. There was already a group of children at the kennels and they were playing with the latest puppy recruits – absolutely adorable! That was all I needed to sign up for a basic training session the next day and I had a great time with my doggie partner, Skye; she knew exactly what to do but waited for my commands so I could 'pretend' I was in charge!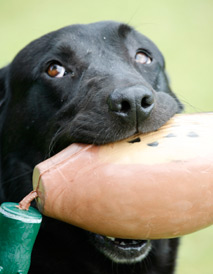 The trainer also went through the various breeds used in Scotland for shooting parties and it was very informative as well as good fun. Would love to bring my own girl to stay in the guest's kennels next time and maybe tackle one of the field courses.
The Gundog School is one of the many activities available at Gleneagles. To read about the Equestrian School, Falconry, Fishing and Shooting (to name a few), click here to check out the website.
By Yvonne Shaw. Yvonne has now been with PerryGolf for over 10 years and is a member of our admin team.