The final round of the U.S. Open next week shall fall on Father's Day. One of the great days in sport when there can be no discussion at home about whether your family obligations supersede your television time!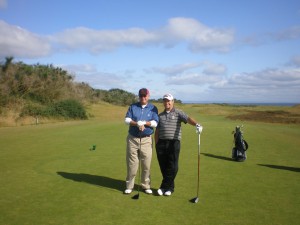 Dan and James Hollmann at Kingsbarns Golf Links
Father's Day and golf is about as wholesome as it comes. The generations that have passed their love of the game of golf to their offspring and all that it entails and the joy that it brings are encapsulated in one day, next Sunday.
I recently read and strongly encourage any father to read Don Snyder's book; Walking with Jack. It is a poignant story about a father's unwavering desire for a son to succeed in the game of golf. Any father who has introduced their child to golf will relate to Don's great story telling ability.
We recently hosted some clients in Scotland, a number of whom I knew personally and I was delighted to read this article in the Richmond newspaper from the son of one of my friends. Jeff speaks to the deep enjoyment and personal satisfaction from spending quality time with his father. I could not be more delighted that in our own small way, PerryGolf helped to make it possible.

About the Author: Gordon Dalgleish is the Co-Founding Director of PerryGolf, the leading provider of international golf vacations. You can find him on Google+