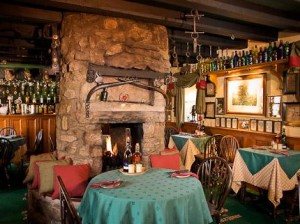 One of the restaurants we have booked for clients for many years is the Champany Inn in Linlithgow.  It is just 40 minutes from the centre of Edinburgh and has long had a great reputation as being one of the best restaurants in the country…especially for steaks!  As a treat for a recent Anniversary I finally made reservations to dine there and I was not disappointed.
The restaurant has a very homely atmosphere and is set in converted farm buildings – they actually now have two restaurants; we ate in the Chop & Ale House.  The menu is fairly basic as their focus is on the quality of the produce…and you can tell.  Also available is the main dining room which is more formal and has a larger menu.  Not to be forgotten, within the building is an outstanding wine cellar which is also worth a visit.
We started with chicken liver pate and chorizo which is made from scratch on-site and was excellent but that was just the teaser.  For the main course we had rib eye and T-bone steak; both chargrilled and easily the best I have ever tasted.  The steaks were nicely seared on the outside and incredibly succulent inside.  I had also heard that their cheesecake was very good so we managed to find the space to share a slice to finish off what is one of the most enjoyable meals I have ever had.
A recent addition is that they now have some rooms available so, while they are not a conventional hotel and more of a restaurant with rooms, you can fully indulge in the experience and have a great farmhouse-style breakfast the following morning…although  I do suggest good long walk beforehand to build up your appetite.
By Alastair Niven.  Alastair has been with PerryGolf for over 12 years and is of our Golf Travel Specialists.