One of the advantages of having a partner who was born just outside of Cardiff (and is a very keen golfer) is that we get away to my favourite hotel, Celtic Manor, whenever possible; Wales playing at home in the Millennium Stadium, a family birthday or anniversary is all the excuse we need.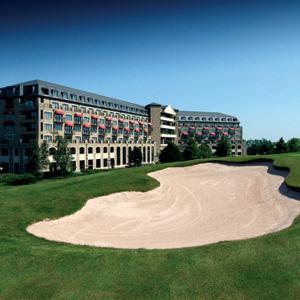 Although the main hotel looks somewhat formidable on approach – from the huge wooden dragon sleeping in the foyer, to the menus in the restaurants – it is a delightfully Welsh experience.
My partner always enjoys a lesson with the Pro which then continues onto one of the courses while I hit the Spa!  The staff all over the hotel are extremely helpful and welcoming without being obtrusive and no less so at the Spa where you can chat about your treatment, choose your products and generally get into the mood for relaxation in the sunny conservatory.
There are five restaurants in the resort…and believe me, we have tried them all!  My favourite is Rafters in the 2010 Clubhouse for superb food in an informal atmosphere.  But for a real treat, and if we are being joined by family, the Taste of Wales experience in The Crown Restaurant makes for a memorable evening.  Designed for a table of four or more to share, this is a taster menu with suggested wines and it is a lot of fun.  The intention is that you will spend the entire evening with them; from pre-dinner drinks to a nightcap… and you are in no hurry to leave!
By Yvonne Shaw.  Yvonne has been with PerryGolf for over 10 years and is a member of our admin team.