The reputation we've earned over 30 years as one of the most respected providers of international golf tours is proudly presented now as one of the most respected providers of international golf cruises…

PerryGolf Cruising stands alone to deliver the largest variety of voyages that combine the best golf courses in the world with the world's most desirable destinations.
All-inclusive golf cruising promises the perfect arrangement of comfort and convenience whether you sail with us to the British Isles for the 2017, 2018 or 2019 Open Championship, New Zealand & Australia, the Baltic Sea, the Mediterranean or the Caribbean. If you're keen to combine your love of the game with your passion for travel, you'll find an expert for both at PerryGolf. Read what our Clients say about PerryGolf Cruising.
[Tweet "5 Things You'll Love About PerryGolf Cruising"]
1. Colin Dalgleish, Your Host & Co-Founding Director of PerryGolf

PerryGolf Cruising is brought to you by PerryGolf's Co-Founding Director, Colin Dalgleish.
Colin is truly an incredible person of whom we are confident you will very much enjoy meeting.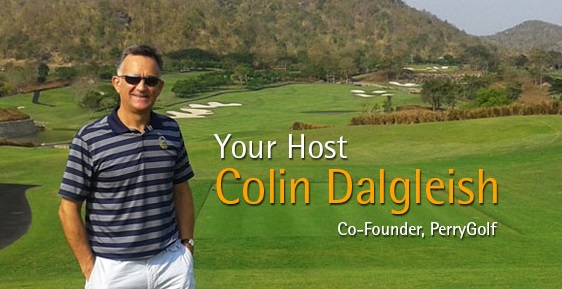 2. Choices
In 2017 / 2018 / 2019 we'll sail the British Isles including Sunday attendance to The Open Championship. We have voyages sailing the Mediterranean, the Caribbean, the Baltic Sea, Thailand, Vietnam and Hong Kong, USA and Bermuda, Arabian Gulf and Australasia onboard Azamara Club Cruises' 686-guest ocean liners plus SeaDream Yacht Club's 112-guest mega-yachts. We also offer a collection of seven exclusive-use hotel barges for parties of 8-18 to experience culture, cuisine and golf along the waterways of Scotland, England and France.
3. Convenience
From the time you arrive to the port of embarkation to the time you disembark, we hope you'll sit back, relax, and enjoy your PerryGolf cruise. Unpack just one time and that's pretty much it.  The ships are generously staffed to serve your every need plus, PerryGolf staff is also on board to personally assist you. The tee times, golf equipment handling & ground transportation all completely arranged during your cruise.
4. Ship Size
We do not charter. Instead we choose our cruise partners from those who are already sailing the itineraries we require on the merits of their vessel, their standard of service and their value. That means our portfolio offers wide ranging choices from the 686-guest ocean liners of Azamara Club Cruises to the 112-guest mega-yachts of SeaDream Yacht Club and the 8-18 guest, exclusive-use hotel river barges of European Waterways. The size of the vessels are large enough to provide luxurious amenities like suites with butler service, but nimble enough to navigate smaller harbors. Whether you're traveling with your significant other, with other couples or alone, you will find these ships offer the perfect amount of intimacy for any occasion. Our clients make lifelong friendships among themselves and with PerryGolf.

5. Flexible Dates

You can join PerryGolf on a golf cruise just about year round, from January to October.
Browse upcoming PerryGolf Cruises more details.

About the Author: Harrison Gould is the Social Media Marketing Manager of PerryGolf, a leading provider of international golf vacations. You can find him on Google+, LinkedIn, Twitter, Instagram , and Pinterest.