With a population of roughly 44 million, Argentina is the second-largest Spanish-speaking nation in South America. The beautiful nation on the continent's southern portion delivers a variety of features and attractions certain to please an array of travelers.
Along those lines, PerryGolf's Best of Argentina Escorted 2018 is sold out later this month, however don't fret because space remains on the 11-night, 6-round Escorted Tour in Feb. 2019.
From breathtaking waterfalls to incredible dining to entertaining and educational slices of culture – not to mention world class golf, PerryGolf's Escorted Tours are the ideal way for the discerning traveler to enjoy this expansive and diverse nation. Whether you enjoy the fast-paced action in the city or peaceful natural beauty in the countryside, Argentina has plenty to offer.
If you enjoy combining your love of the game with a passion for travel, you'll find a lot to like about this escorted experience for a party of 20-24.  Arrangements are in place for every aspect of this fully managed program including various meals, guided sightseeing, carts/caddies and local transportation.  It is an excellent opportunity for couples and individuals to join a group of like-minded future friends!
Here are five reasons everyone should save space for a trip to Argentina.
The Weather
Argentina is located in the Southern Hemisphere, so summer spans from December to February, encompassing the months when PerryGolf will take you there.
The average high temperature in Buenos Aires during these months is roughly 85 degrees and the average low is 69. Visitors can expect approximately nine hours of sunshine per day as they peruse boutique shops in the high-energy cosmopolitan city of nearly three million or wind down the scenic Camino de los 7 Lagos (The Road of the Seven Lakes). Shorts and shirt sleeves will generally suffice on the golf course and you'll return home tanned, refreshed and eager to return.
The Golf
Buenos Aires Golf Club is a treat. Avoiding the water hazards is top priority at this Robert von Hagge designed which opened in 1994 and held the World Cup of Golf in 2000. Americans Tiger Woods and David Duval teamed to win that event by three shots over the host country.
Olivos Golf Club is considered one of the finest courses in South America, and the best in Argentina. It routinely serves as host for the nation's most significant championships, including the 2016 Argentina Open.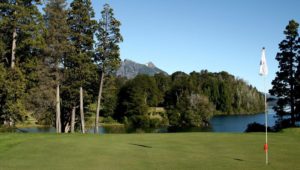 Llao Llao Golf Club is surrounded by deep-blue lakes, snow-covered mountains and natural forests. The layout crosses the Nahuel Huapi Lake a number of times and its dramatic 18th hole is one of two holes in Argentina which are rated among the best 500 in the world. This is  a challenging and scenic experience that will not soon be forgotten.
The Beauty
Iguazu Falls, which is offered as a Pre-Tour Extension and includes a full day tour of the Falls, means great waters in the Guarani language. There are 275 individual drops on this natural wonder, feeding from the Iguazu River, which serves as the border between Brazil and Argentina.
Isla Victoria has varied foliage, including the arctic beech, and some easy hiking trails, and if you spend time wandering, you can find some solitary beaches on which to sit and contemplate the lake. There are cave paintings on the island that mark a distant paste when the island was inhabited by Indians. In the Mapuche language for "Nahuel Huapi", nahuel means "jaguar" and huapi means "island".
Fly Fishing on the banks of a Patagonian River is an activity that can be enjoyed by folks of any skill level, providing a enjoyable afternoon in nature – and perhaps dinner for the evening.
The Wine & Food
Eat a hefty steak cut from a pasture-raised and grass-fed cow. A steak dinner at any of the parrillas (beef restaurants) in San Telmo, a trendy barrio with cobblestone streets just six blocks from Plaza de Mayo, promises the most authentic churrasco experience imaginable. 
Enjoy a lovely glass or two of Malbec, the red wine for which Argentina is best known. Dine at the dozens of wonderful restaurants located in the heart of bustling Buenos Aires. This much is certain: guests rarely want for a delicious dining experience on their visits to Argentina. 
Great dining options in Buenos Aires
The Culture
On one enchanting evening in Argentina, enjoy a Tango Show at Gala Tango, which includes a private 30 minute lesson before the dinner. This dance is synonymous with Argentina. Its sensuality has traveled the world in the voices of famous singers. From its origin in the marginal neighborhood of La Boca at the beginning of the twentieth century, Tango has come a long way and today is danced in the finest dance halls in Buenos Aires and the world. 
Buenos Aires is a charming city with a strong influence from many of the main European cities. Beautiful walks, avenues, parks, monumental buildings, cafes, museums and churches gathered in 26 districts, each with its own distinct personality, gives it a truly cosmopolitan air. The northern quarter resembles the most elegant areas of Paris; May Avenue and it's innumerable cafes houses revives the flavor of Madrid's Gran Via; the shady Belgrano streets recall the distinguished Londoners suburb; Naples seems to be present in the noisy and colored La Boca quarter.