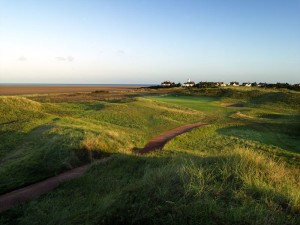 More often than not, when golfers think of travel to the British Isles, they focus on Scotland…closely followed by Ireland. In reality, one of the greatest stretches of coastline, which serves as home to a superior grouping of links courses, is the Lancashire coast of England.  Situated northwest of Manchester and facing Dublin across the Irish Sea, the Lancashire coast is home to some classic links…
To get a better sense of the region, please view a highlighted map by clicking here.
You will find three Open Championship venues within 40 miles of each other, a claim that is unmatched in Scotland.  PerryGolf's British Open golf package and the golf world's eyes will once again return to this area when the 2014 Open Championship is contested over Royal Liverpool Golf Club, also known as Hoylake, after the town in which it is located.
Check out PerryGolf's special value vacations for 2014 here!!
There is no good reason why for so many years this area of England was overlooked as a genuine links golfing destination.  Regardless, many people now are aware of the golfing opportunities that abound and a number of very good hotel options have opened in recent years, including the Vincent Hotel in Southport.  Southport itself is an English beach town that has for many years been popular with people from around Britain who preferred to stay at home during the summer holidays rather than venture overseas.  As a result, it has a unique holiday atmosphere.
Given the location and sizable local population, this is a region with excellent sightseeing, dining and overall infrastructure that caters to both golfers and non-golfers even off the links.
Access to this region of England is excellent with many long haul flights operating into Manchester, with growing European and domestic flights into Liverpool Airport.

About the Author: Gordon Dalgleish is the Co-Founding Director of PerryGolf, the leading provider of international golf vacations. You can find him on Google+