Italy stands alone in our portfolio for the greatest range of course styles and the most fascinating collection of cultural marvels. Narrowing down to just five reasons for a golf vacation to Italy is nearly impossible; however, we've done our best to highlight 5 of the reasons why we think you'll love a visit…
The spectacular time filled mountains, valleys and shores of Italy continue to inspire works of art, only now they are signed by many of the greatest names in the game of golf. 249 courses welcome your visit, offered in equal parts of resort and private layouts then a host of nine hole village favorites.
Here's a look at five of the courses we think you'll love.
La Pinetina Golf Club
Founded in 1971, La Pinetina Golf Club covers 158 acres of heavily wooded parkland in wonderfully unspoiled countryside with panaramoic views of the mountains. In 1982 the entire complex was purchased by the members & considerable structural and technical modernization has been carried out to bring the course to a high standard of perfection. The course is only slightly more than 6,000 yards long but its strategically placed water hazards & well-kept, quick greens will keep your attention.
Villa d'Este Golf Club
Situated at 1200 feet, the Villa d'Este Golf Club lies splendidly in sunny Brianza as one of Europe's most entertaining par 69s. The course winds its way through chestnut groves, birch and pine woods. It is considered one of the most varied and challenging par 69 courses in the country. A superb clubhouse with views over the course & the lake of Montorfano adds the final touch to this tranquil, elegant site.
Firenze Ugolino Golf Club
The oldest course in Italy, Firenze Ugolino Golf Club follows the natural contours of the Chianti slopes through indigenous olive trees, maritime pines and broom. Lift your eyes and see incomparable Tuscan beauty with castles, farmhouses and vineyards in all directions. The course isn't long but the greens are small and well defended by bunkers. Ugolino hosted the 40th Italian Open widely remembered as one of the most exciting ever played when Bernard Langer won a thrilling play-off with Severiano Ballesteros and Sandy Lyle.
Le Pavoniere Golf Club
An Arnold Palmer layout, Le Pavoniere Golf Club is found on the former estate of Leopoldo de Medici. The course is nicely secluded with a links feel and a collection of Tuscan-style brick walls and bridges used around the water hazards plus of course the ever-present cypresses of Tuscany. Five miles from Prato, it features a wood of holm-oaks, cluster pines and the ever-present cypresses of Tuscany.
Country Club Castelgandolfo
Desinged by Robert Trent Jones, the Country Club Castelgandolofo has added 3 lakes, 93 bunkers and 18 holes to an extinct volcanic landscape of umbrella pines and olive trees overlooked by a 17th century villa built by Cardinal Flavio Chigi (nephew to Pope Alessandro VII) and produced a superb golf course. This 6,825 yard, par 72 doesn't take kindly to misplayed shots.
If you are travelling to Italy, the one activity that we find both golfers and non-golfers alike love, is an authentic Italian cooking class. Lessons are hands-on and before beginning the cooking process, the participants will be taken to the nearby food department store where the chef will introduce you to the culinary habits of the Italians. The classes are based on the preparation of the lunch or dinner that will then be eaten by the participants themselves at the end of the class. Importantly, the meal is accompanied by fine wines!
Italy stands alone in our portfolio as the destination with the greatest range of geographies, the most complete variety of golf course styles and, by far, the most compelling collection of cultural marvels.
Ninety minutes north of Milan is stunning Lake Como in the southern Alps; home to mountain golf, cooking classes and magnificent lakeside villas. Our Tuscany & Umbria tour begins and ends in Rome. In between, you'll experience two of Italy's most renowned regions for their landscapes, artistic legacies, gastronomy along with parkland and links style golf. In Sicily, the largest island in the Mediterranean, you will find 10,000 years of human history, beautiful private beaches plus the finest parkland and links style golf.
What more of a romantic getaway than combining golf, wine tasting, cooking classes, sightseeing & more?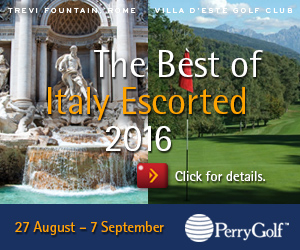 In 2016, our fully Escorted PerryGolf tour to Italy is inclusive of many meals, five rounds of golf with cart, all privately guided sightseeing, cooking classes, wine tastings, airport transfers, train fares and much more.
11 Nights | 5 Rounds | 27 August – 7 September
About the Author: Harrison Gould is the Social Media Marketing Manager of PerryGolf, the leading provider of international golf vacations. You can find him on Google+, LinkedIn, Twitter, Instagram, and Pinterest.