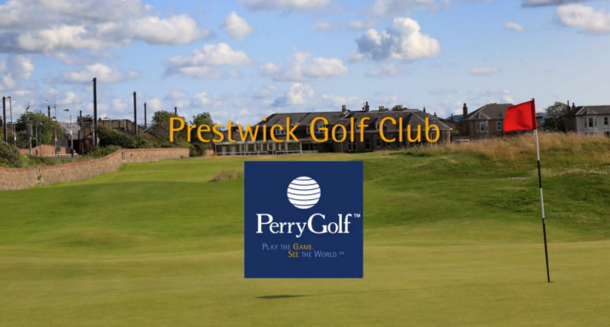 Prestwick Golf Club was founded in 1851 and lies adjacent to Royal Troon along a stretch of Scotland's Ayrshire coastline that is as famous as any in the world for the game. Prestwick, the Birthplace of the Open Championship, attracts golfers from around the world to play its historic Links.
It was here at Prestwick Golf Club in 1860 when Willie Park won the first Open Championship, finishing two shots ahead of Old Tom Morris. Prestwick would go on to host 24 Open Championships (the last in 1925) plus 11 Amateur Championships, the most recent in 2001.
Today, Prestwick is a thrilling 6,908 yard par 71 throwback from the championship tees. It stands tall for all who believe that the essence of golf has and always will be how the ball reacts along the ground. Typical of the original golfing terrain known for producing awkward stances on undulating fairways, Prestwick provides a taste of golf as it was played long ago. The holes now in play still include six of Old Tom's original greens.
Especially memorable holes include the 230 yard blind par 3 fifth, the steeply pitched back to front green at the eighth, and the wicked left to right side slope at the ninth green. Occupying a unique niche in golfing history, there are few places like it in the world of golf. Make sure you take time to explore the clubhouse and prepare to be amazed.
A must play for any discerning enthusiast of the game, Prestwick is golf royalty.
Do you want to play Prestwick Golf Club? Check out the PerryGolf Scotland Packages below!

About the Author: Harrison Gould is the Social Media Marketing Manager of PerryGolf, a leading provider of international golf vacations. You can find him on Google+, LinkedIn, Twitter, Instagram, and Pinterest.