Click here for trip summary & overview
Day 31  Play Kasumigaseki (East)                                                   Train Tokyo/Kobe
At 7 am I took a 25-minute cab ride to Kasumigaseki (East Course rated 70, designed by Fujita and Alison 1929)(first played November 1988 and again July 1993/total two rounds) (26 miles northwest of Tokyo) where I was met by a lively playing companion Eiichiro (Eddie) Tsuji. He is a club committeeman and was snappily dressed in plus fours. Eddie is retired from the Mitsui trading company and had overseas stints in New York City, Montreal (he is still a member of Royal Montreal), and Sydney (still a member of The Australian). We were the first ones off the first tee at 7:50 am with a female caddie pushing a cart. The weather was overcast and warm, and no breeze was present. As the morning progressed the skies brightened, with the sun appearing on the eleventh tee, and the temperature  reached the low 70's.
The day before I had been told by a person supposedly knowledgeable in the rating of golf courses, particularly in Japan, that the east course at Kasumigaseki had changed since my 1993 visit. He said that there had been some design alterations that had turned out to be negatives. In addition, he said the course was in poor condition because of heavy play even though the club is considered one of the most eminent private clubs in Japan. From what I could determine, the warnings were totally untrue, and Kasumigaseki remained at the same high level experienced in 1993.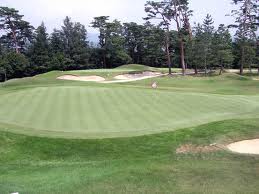 Eddie and I zipped around the front nine in less than 1 ½ hours. As we approached the ninth green there were at least 24 people waiting to hit off the tenth tee, and many foursomes were visible playing the back nine. I envisioned that the second half of the round might take three hours. But like magic the seas parted, and we finished the entire round in less than three hours. The club had arranged for a forecaddie carrying a red signaling paddle. The young lady walked down the center of the fairway and simply waved the foursome in front to the side and directed us through. Eddie and I were like Moses walking through the Red Sea. All those people must have wondered who the Ginga was, and I felt a responsibility to concentrate and hit some respectable shots. As I holed my five-foot birdie putt on eighteen, Eddie happily reported a score for me of one over par on the back nine.
After a quick lunch in the large and modern clubhouse, a 30-mile cab ride took me to the Tokyo Central Station. There I met an old friend, Miki Fujioka, who had been so instrumental in arranging  my 1993 and 1997 visits to Japan. After retiring from the Japan Golf Association two years ago Miki has been working to develop golf on the Internet. He is on the Board of Directors of The CyberWing Golf Club, which is offering playing access to many courses in Japan as well as overseas.
Miki helped me haul my luggage up the stairs to catch the 2:45 pm Hikari Super Express. The 368-mile trip put me into the Kobe station at 6:15 pm; there I was met at the platform by D. Nakamoto (1993) and his chauffeur. We went to the Portopia Hotel, and then D took me and an American representing a franchised food chain to a local restaurant for dinner.
Day 32              Drive Kobe/Naruo                              Play Naruo                          Drive Naruo/Kobe
At 8 am D's friend Mr. T. Nishio picked me up at the hotel in his Mercedes. We drove one hour (30 miles) up in the mountains halfway between Kobe and Osaka to a narrow winding road (it reminded me of the old route into Dornoch). At Naruo (rated 87, designed by Crane 1904 and remodeled by Alison)(played July 1993) we were met by the club manager Hedemi Nakahira and a playing companion Junichi (Juun) Ikada.
Even though Naruo is a private club with high prestige, the course was crowded on that day which was mostly sunny 70-degrees with a light breeze. A single caddie had our three bags on a Sanyo Eagle Master II electric-powered trolley that ran on tracks at the sides of each hole.
After play we had a snack and refreshments in a private dining room. Mr. Nakahira asked for suggestions about the course. I make it a practice never to volunteer any suggestions to a course member or manager. However, if sincerely asked I give candid opinions. My one suggestion for Naruo was that they could put some of their greens back to what looked like slightly larger original putting surfaces.
I drove back to the hotel in Junn's chauffeured Mercedes, which featured a computerized mapping system tied into a global positioning satellite. That evening we had dinner at D's restaurant, Aqua di Maya, in his Maya Plaza. The main course was a large and absolutely mouth-watering steak. The next morning I asked D if he had served the famous Kobe beef. Not only did he say yes, but he also knew the farm from which the beef came and even the exact animal!
Day 33              Drive Kobe/Miki City           Play Hirono                 Drive Miki City/Kansai Airport
Fly Osaka/Auckland, New Zealand
D picked me up at 7 am, and we drove 20 miles to Miki City and the highly esteemed private Hirono Golf Club (rated 40, designed by Alison 1932)(first played November 1988 and again August 1993/total 2 rounds). Our foursome had two caddies with pull carts. At the start it was cloudy and cool (55 degrees) with a light rain. By the back nine the rain had stopped and the sun came out part of the time.
After golf and lunch D's chauffeur took us back to D's office in Kobe and then took me 60 miles to the brand new Kansai airport built on an artificial island. In planning the trip I had not wanted to go back to the hectic Tokyo international airport and then on to New Zealand. PerryGolf found a flight from Osaka to Auckland that went in the late afternoon every other day. Reflecting the smooth nature of the trip, this flight left on the required day, and I was able to have a full day of golf before departure. At 5:45 pm an almost empty Air New Zealand twin engine Boeing 767-300 took off on a 5,534-mile 10-hour flight over the Pacific Ocean. Because my business class section contained two people it was almost like being in a private jet.
Day 34              Arrive Auckland                                                       Fly Auckland/Wellington
Drive Wellington/Paraparaumu Beach                   Play Paraparaumu Beach GC
The next morning watches had to be set ahead three hours because I was now backtracking relative to the international dateline. The plane landed  ten minutes ahead of schedule at 7:30 am, and I was the first one through passport control. My luggage came around the corner of the conveyor belt just as I arrived. After warnings that New Zealand is very fussy about having ultra-clean golf shoes, clubs, and balls upon entering the country, I had been extra vigilant in making sure all items were cleaned at Hirono. As it turned out I zoomed through customs without any search.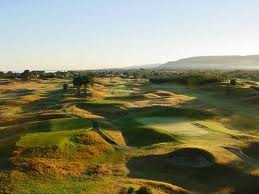 As a result of this especially quick entry into the country, I was able to take an earlier-departing, one-hour, 298-mile Air New Zealand flight to Wellington. There I was greeted by Bob Glading. We had been corresponding since my first visit to New Zealand in 1990 but had never met. Bob is a former New Zealand Open champion and with John Lister runs golf tours to New Zealand and Australia. He is also a golf writer ("The Glading Report" for the NZ Golfing World).
Under cloudy skies Bob raced north through Wellington and up the west coast for a one-hour 30- mile drive to the small town of Paraparamumu Beach. I thought Bob was driving awfully fast for a 78-year-old man. Then I remembered he flew propeller planes off aircraft carriers for the British Navy during WW II. We arrived safely and checked into Wrights by the Sea (actually by the main road; the sea is definitely not visible).
At the club (rated 71, designed 1930 by unidentified person and remodeled by Russell)(played 3 rounds November 1990) we were greeted by the ever efficient and friendly manager Mrs. Pat Taylor (1990). In planning the trip I ended up having to play some courses during the late fall in the Southern Hemisphere. That day was the equivalent of late November in New Jersey — 50 degrees, overcast, 20-mph winds, and an ominous-looking front on the horizon. On the first tee, with clubs on pull carts, Bob and I were joined by Ian Ewen, who had been in on the original formation of the present course.
By the eighth hole the weather had deteriorated to a steady heavy rain and stronger winds. I could not take any more notes and just hung on for dear life. Believe it or not, there were other crazy people on the course ahead of us, and we had to wait a few times as the rain pelted down. This  proved to be one of the worst weather days of the trip.
That evening the Gladings and the Ewens joined me for dinner at the Country Life Restaurant. The food was good, and I found that the American dollar goes a long way in New Zealand.
Day 35  Drive Paraparaumu Beach/Wellington                               Fly Wellington/Sydney
There was some thought that we might play again the next morning, but rain was pelting down and the wind was fierce. So instead we had an unhurried morning, and then Bob drove me back to the Wellington airport. In another scheduling triumph we found a non-stop flight from Wellington to Sydney, and I did not have to return to Auckland. At 3:45 pm a Qantas 767-300 took three hours and 35 minutes to fly 1,387 miles to Australia. Even though New Zealand and Australia look fairly close to each other on a world map, there is a two-hour time difference between them.
A newspaper on the plane reported that the R&A might ban the long putter. I chuckled to myself because I would be at St. Andrews in 17 days; when people saw my collapsible putter with wings the R&A would probably accelerate the ban.
At the Sydney airport I was met by the smiling faces of Mike Cooper (1990) and Ian Gross (1992), two of the "boisterous" fellows from the Newcastle Golf Club. Mike is a golf course architect in partnership with former British Open champion Kel Nagel. The boys whisked me to Royal Sydney Golf Club on the left-hand side of the road. On the way Ian suggested stopping at a driving range to hit several buckets of balls. (This serves as a sample of his humor.)
Staying at Royal Sydney Golf Club was not ideal for play the next day at La Perouse, but it was felt that the quality of the accommodations and food would add to the Australian flavor of the trip. Unfortunately, the flavor turned decidedly sour when I presented myself at the registration counter and was told very rudely that no room was available. This was despite several faxes and phone calls confirming the reservation request. I was further informed that no thought had been given to notifying me or the person who had made the reservation. No apologies were offered, and I was coldly informed that a reservation had been made at the nearby Hotel Cranbrook in Rose Bay.
The three of us had planned to have dinner at Royal Sydney, but needless to say we wanted to get as far away from there as quickly as possible. We had a mediocre meal but the refreshments and conversation made for a delightful evening at the Cranbrook. The boys from Newcastle will keep you on your toes and will absolutely not let you take anything too seriously.
Day 36  Play New South Wales GC                                             Fly Sydney/Melbourne
The next morning I had a discussion with the hotel owner because Royal Sydney had booked me into a "super deluxe" room at a corresponding rate. I would hate to see an ordinary room if mine was "super deluxe." The owner was cooperative, and I paid for a regular room.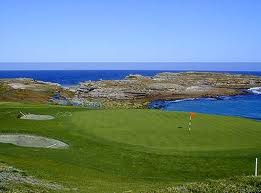 Mike and Ian picked me up at 7:30 am, and we were in La Perouse just before 8 am. We were greeted by David Burton, the young general manager from Canada, who had gathered Tony Sernack, greens committee chairman; Stan Davis, recent club president; and Robert Dick, recent captain.
David signed us all up for the day's competition played under the traditional Australian Stableford system. I experienced New South Wales (rated 54, designed by Mackenzie 1928)(first played November 1986 and again November 1990/total 2 rounds) at its windiest best. With a birdie on the eighteenth hole, my 33 points was the best score amongst our two foursomes. After golf and refreshments in the recently refurbished ($1.8 million) clubhouse we gathered around small tables for lunch and a long discussion of the course's architectural history.
David also showed pictures and relayed a few incidents of the President Clinton/Greg Norman golf game played here in November 1996. The formal meeting with the White House Advance Team had been scheduled to be held in Davis's office, but when a total of 28 men filed in the meeting was moved to the club's boardroom. On the big day the pro shop offered the President an option of three different shirt, sweater, and hat combinations to wear. He selected one combination for play but without hesitation took all three back to the U.S.! Despite losing several balls President Clinton was so enthusiastic about New South Wales that he and Greg played until almost dark. This was while Hillary was waiting in the plane to take off for the States.
Mike and Ian drove me back to the Sydney airport where we had another enjoyable chat before I boarded a one-hour 439-mile Qantas 767-300 flight to Melbourne. The airport is north of the city and my destination was south of the city, making  a 20-mile taxi ride through the heart of the city necessary. The cab driver did not have a clue as to the location of the Victoria Golf Club. With some general help from me he eventually fumbled his way to the front door.
My four-night stay at Victoria Golf Club was the longest in one location on the trip. It afforded the opportunity to regroup and type up many pages of notes. The comfortable, quiet old clubhouse has en suite accommodations for 30 people (no in-room radio, TV, or phone). Well prepared and graciously served meals are included in a reasonable price. Dinners were the feature, with coat and tie required in an elegant dining setting. The five-course meals were as gourmet as you can find at any golf club in the world.
What made this four-day stop possible was the "sandbelt" region south of Melbourne where the four rated courses are close together. Two doubleheaders would have polished them off but I allocated a full four days in case of bad weather or other unforeseen problems. It was also a nice change of pace to do everything in a relaxed way.
Day 37              Play Victoria
The Australian part of the trip was well organized by Wellington (Welly) Chin (1987). Welly appeared just before our 8 am tee time. When we started there was frost on the ground at Victoria
(rated 91, designed by Mackenzie 1927)(for every rated course in Australia I first played them in November 1987 and again November 1990/total 2 rounds). The temperature eventually rose to 45 degrees, and it was partly cloudy. A cool wind meant a sweater all day.
Following golf I took a long walk to the nearby town of Cheltenham and found laundry service.
Day 38              Play Commonwealth
Welly was at Victoria at 7:30 am for a short drive to Commonwealth Golf Club (rated 97, designed by Bennett 1919 and remodeled by Lane/Morpeth and then by Hartley). The weather was nippy, and the club professional provided hand warmers. It immediately turned into a beautiful fall day as the sun came out and the wind was light at 5 to10 mph.
Following lunch we were joined by the secretary manager Max Tritton and later by the greens superintendent Barrie Mau. As we talked about the extensive design changes recently made in the course  I was gazing out the clubhouse window at the magnificent bunkering surrounding the eighteenth green. The sand in this region binds so well that bunker edges are cut razor sharp and stay that way for several years. Thus the bunker designs in the "sandbelt" area are among the most distinctive in the world.
Day 39            Play Kingston Heath                                                 Play Capital Golf Club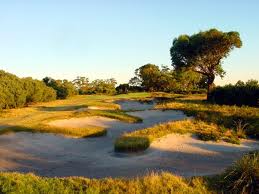 Welly picked me up at 7:30 am and drove a short distance to his beloved club, Kingston Heath (rated 33, designed by Soutar 1925 with bunkers added by Mackenzie 1926). There we were met by the club captain Ian Jones and the club greens superintendent Grame Grant (1987). It was partly cloudy, with no wind and 50 degrees. We toured the course pulling trolleys.
During the round Grame mentioned that he was doing some consulting for the Capital Golf Club (designed by Peter Thomson and Michael Wolveridge, opened 1996). This is a $26 million (golf course for the exclusive use of high rollers at the new $1.3 billion Crown Casino (opened May 1997 and the largest casino in the Southern Hemisphere). Lloyd Williams, the casino/golf-course owner, has patterned everything at the course after Steve Wynn and Shadow Creek. Gaining access to play the Capital is extremely difficult, to say the least. I asked Grame if he could arrange a round, and by 3 pm we were on the first tee.
We were in a cart with the whole course vacant. It became totally dark as we putted out on the eighteenth green at 5:23 pm; we had squeezed every ounce of playing time out of the day. On the par-3 160-yard eighth hole my tee shot hung on the lip of the cup. When asked what I would have received for a hole in one, the director of golf  Ken Loy said alarms would have gone off at the casino and I would have won one million Australian dollars (worth about 650,000 U.S. dollars).
Day 40              Play Royal Melbourne (Composite)                                   Fly Melbourne/Adelaide
Welly picked me up at 7:30 am, and we literally jumped over the fence to Royal Melbourne (Composite Course rated 6, designed by Mackenzie and Russell 1926) which is just across the street from Victoria's twelfth green. There we were met by the club secretary manager Bill Richardson and Michael Bodney from the administrative staff of the U.S. PGA Tour. Mike is billeted in Melbourne until February 1999 as the Tour's representative for The President's Cup, to be held at Royal Melbourne in December 1998.
It was partly sunny, 65 degrees, with 10-mph wind when we teed off at 8 am. Thanks to Bill we were permitted to play the Composite Course (available only for member play twice a year and never to visitors on any other day), and he then led us around. The Composite takes the best from the West Course (twelve holes) and the East Course (six holes) to avoid roads that cross both courses.  The flow of the Composite holes  relative to the holes on the two regular courses is very confusing.
After completing the round I had done something no one in Melbourne would have believed possible — played the Capital Golf Club and the Composite Course at Royal Melbourne within less than 24 hours. Either one is almost an impossible undertaking.
Welly drove me back to the Victoria Golf Club, where I repacked and had lunch. Before leaving Victoria I had a nice chat with the general manager Ken Manders and thanked him for providing such a pleasant and efficient staff. (In my own mind I was contrasting my rude arrival at Royal Sydney with the very pleasant stay at Victoria.) Ken gave me an interesting laminated 1931 aerial view of the golf course that featured the outline of all the impressive bunkering.
Welly drove me to the Melbourne airport. Then a Qantas 737-300 took one hour to fly 398 miles to Adelaide, where dark skies and strong rain were present. A taxi took me to the modest Aviators' Lodge, where a good night's sleep was obtained while it rained intermittently. After five days in Australia my body and mind had just about become accommodated to the time zone change. However, Adelaide has a curve ball, with a one-half-hour time-zone change. So my watch was set back one half hour.
TO BE CONTINUED
About the Author: Gordon Dalgleish is the Co-Founding Director of PerryGolf, the leading provider of international golf vacations. You can find him on Google+